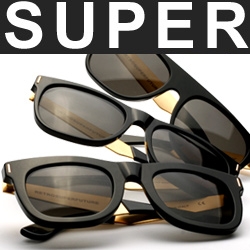 Los Angeles, CA, September 01, 2009 --(
PR.com
)-- The much anticipated Fall & Winter 2009
Super Sunglasses
from Retro Super Future has finally arrived and are sure to be help you transition out of Summer in style. Super Sunglasses Fall Winter 09 collection is now available at Eyegoodies.com, supplies limited.
The Retro Super Future brand, also known simply as Super sunglasses, was born out of the concept that a certain street culture was not being represented in eyewear. Far from your average shades, Super sunglasses took classic wayfarer shape made it slightly larger, infused it with premium Zeiss lenses, and made it in more colors than a pack of Skittles.
Diverging from the colorful frames from past seasons, Super Sunglasses Fall collection is a lot more toned down, but all the more cool for it; with colors such as Black, Matte Black, Black & Gold, Army Green, Transparent Grey and Havana Glitter.
The Super Flat Top, Basic, and Ciccio shapes are back, as well as a couple hot new shapes, like the Topski and Luciano. The Topski is similar to the Flat Top except it has attachable old school leather side shields for those high glare environments.
Some fan favorites this season return, such as the Super Flat Top Black and Super basic shape wayfarer in black, but a new slight color variation is the matte black Flat Top and Basic Shape. Eyegoodies.com editors pick this season would have to be the Francis Series, comprised of three different shaped frames in the Black and Gold color way: Basic, Ciccio and Flat Top. With slick black finishes and shiny gold arms, whether dressed up or just thrown on with a white tee and fresh kicks, they will take care of the rest.
Super sunglasses the brand that has redefined the wayfarer is back with a stunning Fall collection that is selling out quickly. The new Fall Winter Retro Super Future sunglasses are now available at Eyegoodies.com, but don't wait too long as each pair is limited.
Shop
Super Sunglasses
Read more in our blog about Fall '09
Retro Super Future Sunglasses
###