Psych-Improv Act Kohoutek Preps Limited Two Color Vinyl LP for World Release
DC-Philadelphia based improvised experimental psych-rock collective ready world wide limited edition orange and white vinyl only release "LossLess Loss" for October 6 street date.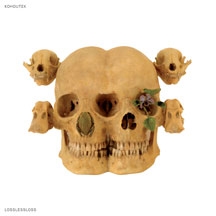 Audubon, PA, September 15, 2009 --(
PR.com
)-- Prophase Music is proud to announce "Lossless Loss," the second studio album from Mid-Atlantic improv collective Kohoutek. The album covers most of the dynamic stylistic range Kohoutek is known for: abstract and textural sound, atmospheric rock, harsh noise freakouts, clattering percussion, guitar heroics, and alien electronics congealing to form a multihued psychedelic extravaganza.
"This record just looked too awesome to ignore. Prophase Records brought in this new release from Kohoutek and we're floored! Gatefold vinyl with an amazing orange/white color scheme. Great job, guys " - Pirates Press
Recorded deep in the Blue Ridge Mountains of Virginia in September 2007, the five members embarked on a psilocybic twilight journey, and this 44-minute aural excursion is the result. No overdubs and minimal editing create an experience as close as possible to a Kohoutek performance. With longtime core members Scott Verrastro (percussion, flute), Craig Garrett (bass) and Scott Allison (electronics) augmented by Vic Salazar (electric guitar) and Damian Languell (vocals, harmonica, clarinet, didgeridoo, Space Echo), Kohoutek forge their own path in the improv universe, and Lossless Loss is another burning fragment of this fleeting sonic comet.
"LossLess Loss" is distributed worldwide by MVD Entertainment Group in Oaks PA.
###
For more information on Kohoutek, please visit Prophase Music dot com or call Mike DeMonte @ 484-358-6134
Contact
Prophase Music
Mike DeMonte
4843586134
prophasemusic.com

Contact