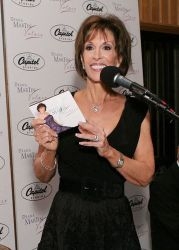 Hollywood, CA, September 17, 2009 --(
PR.com
)-- On September 9, 2009, world-renowned Capitol Records opened its doors to Studio 'A' to host in conjunction with Big Fish Records, a star studded party for Deana Martin's new CD "Volare." 'Fun times, great music and good friends' was the order of the day with exquisite food, outstanding gifts and "The Deana Martini." Over 200 of Hollywood's finest turned out to celebrate the CD, which is currently atop the Billboard and iTunes charts. "I just love her music – the talent comes full circle – from father to daughter," said Dennis Farina. Joe Mantegna added, "Just like Justin Timberlake brought 'Sexy Back' Deana Martin brought 'Coolness Back." "Deana has such a wonderful voice and is a perfect fit for the standards. Her music puts a smile on your face and makes you feel good! Her Dad would be very proud," said Ed Lauter.
Dennis Farina, Joe Mantegna, Robert Davi, Ed O'Ross, Robert Logia, Robert Conrad, Ed Lauter, Lee Hale, Sara Ramirez, Nadia Bjorlin, Carmine Giavianozzo, Vanessa Marcil, Brandon Beemer, Al Schmitt, A.C. Lyles, Gia Mantegna, Stephanie Striegel, Frankie Randall, Tony Oppedisano, Adrienne Frantz, Gary Owens, Scott Bailey, Royal Crown Revue, Hal Needham, Charlie Pignone, Steve Inwood, Dario Deak, Patrika Darbo, Don Randi, Joey Gian, and Danielle Bisutti, Don Graham, Mike Horn, Chick Watkins, Michael Frondelli, Mickey Guerin, Lou Simon, Brad Chambers, Morris Diamond, Jerry Sharell and Jack Roberts, Ron Onesti, to name a few, were among the bevy of celebrities and industry VIPS who attended.
Dressed in a stunning black silk, 'vintage-inspired' gown, she held back tears as she addressed her guests, sitting on the very same stool that her father used when he recorded "Volare," using the very same microphone. "I just want to thank my fabulous 'A' Team who made this CD possible -John Griffeth, my handsome husband, manager and producer, and GRAMMY Award winners Al Schmitt, Steve Genewick, Ron McMaster and Rob Christie. I also like to thank Capitol Records VP Maureen Schultz and the Senior Director and Manager of Capitol Studios Paula Salvatore. This project was special to me on so many different levels. I remember vividly as a little girl, walking down these very same Capitol Studio hallways with my Dad, and sitting on a cold metal seat in Studio A, while I watched my Dad record 'Memories Are Made Of This', his very first #1 hit record. I watched in awe, as the orchestra was performing behind him, and as a little girl I was so proud to see my father in that light for the first time. It's come full circle for me now as I've recorded my new CD, 'Volare' and worked with my 'A' team, right here in Capitol Records Studio. Thank you again to everyone who made this possible. Now I would like all of you to join me for a moment and honor the memory of a dear friend, Mr. Army Archerd."
Guests were treated to outstanding hors d'oeuvres and 'Deana Martinis.'
The evening ended with two very special surprises; a gift from Deana Martin & John Griffeth, of Deana's new CD "Volare" released as a limited edition vinyl album. The room went completely nuts. The smiles continued as Deana was joined on stage by Joe Mantegna, Dennis Farina, Ed O'Ross, Ed Lauter, Robert Davi and Joey Gian with Frankie Randall at the piano they sang "It Had To Be You." Definitely the best ending to the coolest party that Los Angeles and Capitol Records has seen in a decade.
Sponsors included Capitol Studios, Hansen's Soda, Amoeba Record Stores, Blue Angel Vodka, and Monster Energy Drink. The party was produced by John Griffeth of Big Fish Records in association with Karen Webb of PR Squared Public Relations, Howie Simon of Legacy Media Relations, Don Graham of Progressive Music Marketing, Ron Onesti of Onesti Entertainment and Christine Mango.
For more information, additional photos, etc. contact Legacy Media Relations, Howie Simon, 323.822.0884 Howie@legacymediarelations.com
For more information about Deana Martin, please visit Deana Martin dot com.
###