Church Mailings on the Rise Across the Country
FishDirectMail.com church marketing and mailing on the rise.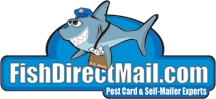 Dallas, TX, September 18, 2009 --(
PR.com
)-- The number of churches using
direct mail
to communicate with their existing members, and more importantly to attract new members, has been steadily on the rise in 2009 in most major markets across the US.
"Churches are being impacted by the challenging economic climate just like everyone else," explained Rob Shearer, Vice President of Sales and Marketing for FishDirectMail.com. "And many of our church clients who use us for their direct mail programs have indicated that response rates are on the rise." Shearer said.
FishDirectMail.com has created a specialty division dedicated to helping churches and other faith-based organizations reduce the cost of their direct mail efforts while providing strategic consulting to increase their return-on-investment. "Non-profits in particular can't afford to waste any money these days," said Russell Honeycutt, Vice President of Operations for FishDirectMail.com. "Our aggressive pricing has allowed us to save our church direct mail client's significant money, which allows them to put that money into other areas of their ministry," explained Honeycutt.
FishDirectMail.com projects that as a category church and non-profit mailing will see an increase of over 200% compared to 2008. "When people have hard times in their personal lives, they look for support in other areas. Our church clients are benefiting from that and are providing a great service to the communities they serve," said Shearer.
FishDirectMail.com is a full service direct mail company that provides postcards, self-mailers, letters, newsletters and more to clients across every industry in all 50 states. Dedicated to making direct mail easier for their customers, FishDirectMail.com is the leader in fast, cheap and easy direct mail programs.
###
Contact
FishDirectMail.com
Russell Honeycutt
866-659-8393
www.fishdirectmail.com

Contact