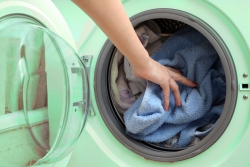 Pittsburgh, PA, September 19, 2006 --(
PR.com
)-- Easy-care bamboo fabrics offer an environmentally-friendly alternative to traditional fine cashmere. Organically grown bamboo fabric is softer than cotton, with a texture similar to a blend of cashmere and silk. Since an ecoKashmere™ bamboo garment can be machine-washed cool, just like any cotton t-shirt in your wardrobe, you get the benefits of cashmere-like softness with less harm to you and the environment.
The Environmental Protection Agency (EPA) has issued warnings regarding exposure to the harmful chemical solvent perchloroethylene "perc," used by approximately 85% of the nations' drycleaners. Perc is toxic, with both human and environmental consequences:
• Perc has been shown to cause cancer in laboratory animals. There is evidence suggesting a link between long term perc exposure and the elevated risk of certain types of cancers. On these basis the International Agency for Research on Cancer (IARC) concluded that perc is "probably carcinogenic to humans;
• Exposure to perc for even limited periods may result in dizzyness, fatigue, headaches, confusion, nausea, skin - lung and eye irritations and can even cause liver damage & respiratory failure;
• Studies have show that increased exposure to perc can produce birth defects in children or even result in miscarriages and death. Scientists are investigating a link between perc and reproductive/fertility problems.
Sustainable Laundry Tips:
Tips for Sustainable Care and Wash
Choose Front-loading Washers
These machines have no agitator, and are gentler on your garments than the top-load machines. Many laundromats have traditionally used front-load washers, but these heavy-duty commercial models were not cost-effective for home use. Now, several manufacturers have designed new front load washers which are smaller and within the price range for home use.
You'll not only save energy and water on the more efficient front-load washers, your clothes will last longer and look better.
Clothesline
Using a clothesline will save money on your utility bill, while being easier on the environment. Reduce dryer use with a clothesline.
Whether you use an indoor drying rack or an outdoor clothesline, this natural drying is better for your garments than clothes dryers. Your clothes will dry without static cling or shrinkage, and they will also last longer. Look at the lint screen which fills up with every load - this lint is your clothing being worn away!
Set the Dial on Cold
Using hot water for washers is more expensive and has more impact on the environment, while offering marginal benefit in the washing process. Using cold water will save 80 - 90% of the energy costs in washing. The detergent you use is what really makes the difference in wash results, not the temperature of the water. Hot water is also harder on your garments. Biodegradable laundry detergents are inexpensive, effective and readily available.
Remove Clothing from Dryer Before the Cycle Ends
Most clothing shrinking occurs as the last 5-10% of the water is driven out. If clothing is removed when it is a little bit damp, there will be less shrinkage -- increasing the clothing lifespan. Some elements of clothing can be quickly degraded if subjected to the heat of a drying too long. Some fibers become brittle - particularly elastic bands. So if clothing such as socks are over-dried, they lose elasticity quickly and have a shorter useful springy life.
Sustainable laundry practices are not only better for the environment, these sustainable laundry tips will help you to prolong the life of your clothing. By choosing high quality garments that have been sustainably created from natural and organically grown fabrics and following sustainable laundry practices, you will feel and look great.
written by Bonnie Siefers
Owner/Designer
www.jonano.com
A Division of Sami Designs, LLC
Copyright 2006 Sami Designs, LLC -- All Rights Reserved.
ecoKashmere trademark application pending.
Comfort with Benefit application pending.
Headquartered in Pittsburgh, PA, Jonäno™ is one of the few scrub companies on Earth specializing in eco-friendly fabrics and sustainable business practices.
###