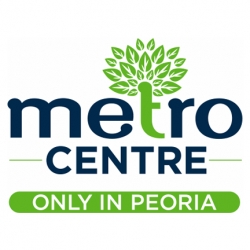 Peoria, IL, September 30, 2009 --(
PR.com
)-- Opening a new business is always a challenge, no matter what the state of the economy is. But Metro Centre has an innovative new way to help. The landmark Peoria shopping destination now offers comprehensive marketing and branding services for local entrepreneurs looking to join Metro Centre's distinguished group of businesses.
"It's a true partnership," Metro Centre owner Eric Brinker said. "Instead of just opening the doors to a vacant store and that's it, we start from square one and craft the concept of the business in concert with the new business owners. Then we help all the way through a logo, brand identity and, finally, the store launch. It's a totally new kind of program for Peoria, and already we've had great success with it."
The services are being offered to new tenants who are looking to start their own businesses, or to optimize their existing marketing efforts. The full range of services is provided by Metro Centre's experienced marketing staff. As a true marketing partner, Metro Centre will work with interested tenants to:
• Identify new business concepts
• Develop a business plan
• Create a logo and brand identity
• Plan a grand opening launch program
One new business that has taken advantage of Metro Centre's resources is the recently opened Bags & Company. "The partnership approach to our marketing was very refreshing – unlike any place we'd previously conducted our business," owner Regina Avery said. "We knew if our business was to succeed, it would happen at Metro Centre.
There are currently 3 spaces available at Metro Centre, including the former Ponderosa Steakhouse site on Glen Avenue which is being cleared for businesses interested in a build-to-suit location.
Peorians have depended on Metro Centre for more than 30 years — and counting. The stores are still locally owned and operated, and their success is based on a simple, homegrown recipe — friendly faces behind the registers, a unique selection of stores and a commitment to friendly, personal service.
###