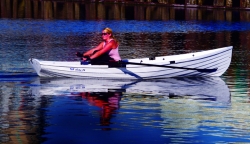 Annapolis, MD, October 04, 2009 --(
PR.com
)-- The world's first thermoformed high tech rowing and sculling boat, the Whitehall Spirit ® Solo 14 will be on display at the US Sailboat Show Oct 8 – 11. Sporting beautiful classic lines including lapstrake styled planking the Solo 14 is also fitted with slide seat sculling gear that is biomechanically identical to a racing shell.
"When you pull on those light weight 9'6" carbon fiber sculling oars it feels like you are a giant bird flying low across the water" says the designer Harold Aune, co-founder of Whitehall Rowing and Sail, the builder of these gorgeous classics. This real time rowing machine is almost as fast as a shell but can handle rough water, wind and waves. In fact it's know as "The Mountain Bike of the Sea."
Solo 14 owners report major fitness gains, weight loss and stress relief after only a couple of months of rowing two or three times a week. Slide seat rowing is recognized as one of the best exercises a person can do because it utilizes over 90% of the body's muscles, burns double the calories of jogging and there's no impact on the joints or ligaments.
The thermoformed copolymer construction means it's extraordinarily tough, durable and almost completely maintenance free. The reserve buoyancy built into the double hull makes the Solo 14 virtually unsinkable, a huge safety factor.
"We have people of all types from Olympians to farmers loving the freedom and fitness this boat offers rowers on oceans lakes and rivers and ponds. What I like best is if there's no wind for sailing you can go rowing," says Harold Aune. "I love sailing but this slide seat boat puts the fun back into rowing and keeps me fit for sailing."
Harold and the crew from Whitehall Rowing and Sail will be happy to personally show you the Solo 14 at Booth 79B at the show. You can preview the Solo 14 at
www.whitehallsolo.com
###