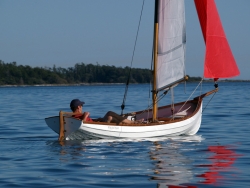 Annapolis, MD, October 04, 2009 --(
PR.com
)-- A fleet of classic Whitehall boats has returned to their original east coast birthplace. The Whitehall Spirit® line of classic rowing and sailing boats make their east coast debut at the US Sailboat show October 8 – 12. The Whitehall Spirit® design is based on the famous Boston Whitehall from the 1800's. The original Whitehall's were the ultimate rowing boat used for commercial transport, pleasure boating and also racing all along the eastern seaboard.
The builder, Whitehall Rowing and Sail, of Victoria BC has delivered over 2000 of these boats which are renown for their seaworthiness in rough water, wind and waves. Known worldwide as floating works of art Whitehall Spirit® classics feature exquisite lapstrake styled fiberglass hulls, impeccable teak woodwork and fine cast bronze fittings. They also are fitted with slide seat sculling gear adding to their efficiency and fitness benefits.
"The real beauty in these boats is they are stable safe and seaworthy, can be used hard and are built to last generations" says Whitehall production manager Colin Rolls who will be personally available to talk to show visitors and invite them to look over the 5 different models featured from the Whitehall Spirit® Classic line.
"The design is hundreds of years old, yet the fun and enjoyment, fitness benefits and stress relief plus no noise air or water pollution go with our modern values. It's just too sensible. They are not cheap but Whitehall Spirit® boats offer the best real value in the market place today." says sales manager Andrea Guyon. Review the Whitehall fleet at booth 79B at the show or preview online at
www.whitehallrow.com
###