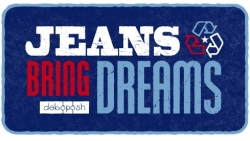 Fresno, CA, October 06, 2009 --(
PR.com
)-- dekoposh, Inc. Announces the first ever Free Tween/Teen Concert in Clovis, California, October 10, 2009, from 3:00-9:00 PM. The concert will be held at Sierra Vista Mall Community Park.
This Concert will bring families together for a huge day of entertainment, hope, inspiration, empowerment and more. The "Jeans Bring Dreams" Tween/Teen Concert will travel from city to city with a message to empowerment and inspiration for children of all ages.
The Line Up includes…Aria Wallace, Ashlee Keating, Austin Anderson, Daechelle, Amber Lily, Keely Marshall, Chani Christie, and Headlining the event is local singer/songwriter and actress Brianna de Alba. Not only will the concert bring you live entertainment from these celebrity performers but the concert includes tween and teen motivational speaking and a local speaker will be speaking on safe social networking.
Seven of the performers will do a special tribute to Michael Jackson by performing and singing a mix of his music (American Idol Style). This performance will "Wow" the crowd with the amazing talent these performers all have. "I have to say, that I am so excited about the Michael Jackson performance, the performers have put in so much work for this performance and that is why we will have them perform it two different times in the concert," said Dina Thomas-Virrueta. "The Michael Jackson tribute is off the hook," said Dina Thomas-Virrueta.
For the audience dekoposh, Inc. has planned amazing raffle items, Deko and Posh the Mascots of dekoposh, Inc. will be throwing special gifts out to the audience, and the first 100 kids to arrive will receive a gift bag full of goodies. dekoposh, Inc. will also be collecting gently used jeans from the audience to donate to Valley Teen Ranch. If the kids bring in a pair of gently used jeans they will receive a wrist band to go to the Meet & Greet Area to get signed autographs and pictures with the celebrity/performers.
The concert will conclude with a Video called "Be Fearless – Let's end Bullying Together" done by dekoposh, Inc. Adair Tishler, Aria Wallace, Ashlee Keating, Austin Anderson, and Daechelle. This week is National Bullying Week and dekoposh, Inc. will empower the kids to End Bullying Now. Aria Wallace who plays "Mandy" from iCarly will speak about her 40 day challenge she will be taking on called "40 Days Unplugged."
"This is a concert you don't want to miss" said Dina Thomas-Virrueta. Not only is it Free but the entertainment and the empowerment that the children will receive will be untouched. Celebrities, entertainment, motivation, empowerment, gifts, giving back to a charity, and more.
www.jeansbringdreams.com
###