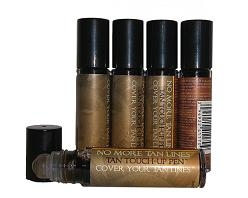 St. Petersburg, FL, October 17, 2009 --(
PR.com
)-- No More Tan Lines, LLC announced the release of their much anticipated, patent pending, No More Tan Lines™ Tan Touch-up Pen™. The innovative tan line touch-up pen allows anyone who enjoys tanning, or the great outdoors, the freedom to wear comfortable clothing, or the swimsuit of their choice, without fear of creating and having to endure unsightly or uneven tan lines.
Outdoor enthusiasts and sun seekers simply "roll-on" the blend of cosmetic bronzers and sunless tanning ingredients, over the tan lines that have been created by a day in the sun. The result is a great-looking all-over even tan.
"We've created an entirely new niche within the tanning, swimwear and cosmetic industry", says Joe Swantack, National Marketing Director. "Ordinary cosmetics last only one day, or until you wash them off. Our product gives you immediate results and lasts up to 7 days."
Convenient and easy to use, the Tan Touch-up Pen™ comes in a lip gloss-sized container that fits easily into any purse, cosmetic bag, pocket, or beach bag. The tan line touch-up pen has become an essential part of any cosmetic kit or makeover.
Made in the U.S.A. and formulated by a world-renowned chemist, the Tan Touch-up Pen™ is on the leading edge of providing consumers with a beauty product which expands and enhances their cosmetic choices.
More information on the new and innovative No More Tan Lines™ Tan Touch-up Pen™ is available at:
http://www.No-More-Tan-Lines.com
.
No More Tan Line, LLC was founded in 2009 and serves the international tanning, swimwear and outdoor enthusiast industry.
###