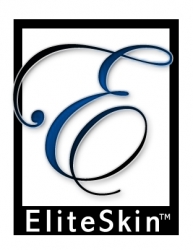 Miami, FL, October 25, 2009 --(
PR.com
)-- The Age Defying System by Elite Skin is comprised of three cutting-edge anti aging products.
The Wrinkle Eraser, an anti wrinkle cream that works to reduce wrinkle depth with it's formula that includes Matrixyl 3000, (Palmitoyl Tetrapeptide-7) Argireline, (acetyl hexapeptide-3) and Leuphasyl. If you aren't familiar with Leuphasil, there is an
extensive research report
put out by Centerchem that talks about the synergistic effect of the ingredient working with Argireline.
According to the study, "When LEUPHASYL® couples to the receptor, a conformational change initiates a cascade inside the neuron that results in a decrease of its excitability: the nerve cell's activity is "turned down" and the release of acetylcholine is modulated. Muscle contraction will be relaxed and therefore, expression wrinkles will be diminished."
The system then works to cure
neck wrinkles
and sagging skin that develops on the neck and jawline by introducing the V-Covery Cream, an anti aging breakthrough that is applied to the upper chest and neck area. This "V-Zone" is often times forgotten by skin care aficionados, but due to the neck's constant exposure to the sun, it needs to be treated with the latest blends of scientific ingredients in order to stay firm and remain healthy-looking. Many people use this neck & chest cream to treat "turkey neck," a common complaint among men and women as they start to realize sun damage in the V-Zone.
With wrinkles and other signs of aging treated from the upper chest and above, the final component is the heralded Elite Serum. The Elite Serum has made fans of many consumers over the last year, and it's success has been well documented on wrinkle cream review blogs. Working to reduce dark under eye circles, eye bags, and puffiness, the Elite Serum is a formula applied to clean skin in the AM and PM. This formula was the first eye cream that combined scientific, laboratory-tested cosmeceuticals with the latest anti aging ingredients. The powerful formula features Haloxyl, Eyeliss, Argireline, and Gaba, and also has a small concentration of resveratrol. This formula led Elite Skin into the upper tier of the Cosmeceutical industry and helped create a benchmark for future
anti aging eye creams
.
The Elite Skin Age Defying System is available immediately at EliteSkin.com.
###