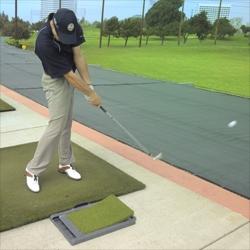 Los Angeles, CA, October 24, 2009 --(
PR.com
)-- FairwayPro is very proud to announce that last week at the Benelux Golf Fair FairwayPro won the award of "Best Product in the GolfBizz" for 2009.
This was the Amsterdam Golf Fair for retailers and Pro's and these visitors
had to choose from about 15 new products at the show.
FairwayPro won with 44% of the total votes.
FairwayPro is also being featured on YouTube Golf Channel
To view and rate this feature story:
http://www.youtube.com/watch?v=Q2yAeVQapVs
Source of the comment below: www.youtube.com
"The Fairway Pro is a portable driving range mat that has a spring like action built in to simulate a divot and also take away the force on your wrist that traditional mats have."
###