Powerbacks® Finally Goes Free
One of the original four template collections circa 1996 for Microsoft PowerPoint® has now been made free for public download.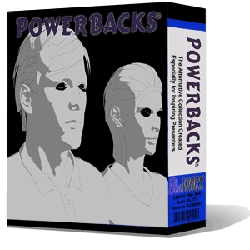 Phoenix, AZ, October 06, 2006 --(
PR.com
)-- Visionary creator, Gary Blue, opens his innovative presentation collection to the free world after a decade as a popular paid product. In its infancy it was touted as the, "Future of PowerPoint®" by Chicken Soup author/editor Mark Victor Hansen, "it will be 10 years before anybody will be really able to use work like yours." Powerbacks® has always had a grass roots following through the years, mainly the "different drummer" crowd who quickly adapted to its trendy style. It has now been incarnated as a "Best of" collection, free for download, distilled from seven previously published CDs. 720 of the most provocatively creative works were chosen from an inventory of over 10,000 production designs to culminate this pinnacle release.
Gary Blue conceived Powerbacks® while sitting backstage during a corporate show in the spring 1996. He was dismayed at the selection of templates that had shipped in Microsoft Office 95 and were virtually being used in every presentation. "Not this one again" was a constant comment on the headsets to the rest of the technical crew as he drove the presentations off a desktop computer backstage. There were no remote control devices and no laptops to speak of, presentations arrived on floppies. Presenters would use a slide projector "pickle" or remote to trigger a small green light that sat in front of Gary and then he would manually advance the presentations. By that fall Blue Worx put out its first release of Powerbacks® containing 800 templates. Fast-forward to present times and the proliferation of laptops, wireless mice and PowerPoint®. Powerbacks® now has over 200 competitors in the presentation market that has grown enormous. "Instead of splitting the pie with all the contenders, we just made it free", relates Gary. Blue Worx, Gary's company, now downloads the series to over 10,000 visitors per day and exceeds a Terabyte of bandwidth per month. There is a limited amount of sponsorship to cover costs but the collection is totally free for all to download.
Powerbacks® comes in 18 categories: Business, Creative, Education, Finance, Holidays, Humor, Inspirational, Religion, Social, Sports, Science, Technology, Abstracts, Edges, Frames, Gradients, and Perspectives & Textures. Each Download contains 30 presentation templates, all works are featured in both .pot and .jpg formats for universal compatibility. Download size averages 20 Megs and take approximately 2 minutes on a broadband connection. Powerbacks® is compatible with Microsoft PowerPoint® 2000 through new 2007 for both Mac and PC and any other software programs that uses .jpg picture format.
You can download this landmark collection now via
http://powerbacks.com
Powerbacks® is a trademark of Blue Worx and located in Phoenix, Arizona.
###
Contact
Blue Worx
Gary Blue
602 524-5399
powerbacks.com

Contact