Eco Scrubs™ Hit the Streets
Jonäno offers a new twist on an old standard.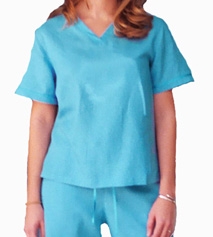 Pittsburgh, PA, October 08, 2006 --(
PR.com
)-- Eco Scrubs have hit the top of our wish list. No longer limited to shapeless polyester potato sacks, the Eco Scrubs Collection is a must have.
While scrubs have long been the rage among college students, scrubs are becoming the newest trend in streetwear and urban fashion. Jonäno owner/designer, Bonnie Siefers points out that in the last decade, tunic tops and casual drawstring pants, reminiscent of the scrub, have come into vogue. Jonäno builds on this trend offering hip separates in luxurious organic fabrics like hemp linen and organic cotton. "Women love the texture, softness and breathability of organic fabrics and the ease of these flattering silhouettes," says Bonnie. "By infusing traditional scrub styling with luxurious organic fabrics and redesigning the scrub with curve appeal, scrubs are going mainstream."
Pair hourglass-shaped Eco Scrub tunics with your favorite pair of jeans, a bohemian skirt or dress it up with curve-hugging cigarette pants. Glam up the look by wrapping a wide belt over a tunic, or choosing the Mia Scrub with its matching sash tie to be worn at the front, side or back. The Eco Scrubs Collection by jonäno offers boundless combinations to create a perfect outfit that goes from a lazy afternoon to a night out on the town. Coordinate Eco Scrubs with kitten heels for a chic, comfy look, or pair them with a bamboo tee from jonäno's ecoKashmere Collection. Eco Scrubs lower rise drawstring pants represent the new street and urban chic.
Organic cotton and other natural fibers are certainly being seen more and more in top designer collections, and it's a trend we adore this season. Even high-profile designers like Oscar de la Renta and Proenza Schouler are working in eco-friendly fibers such as bamboo, corn, and organic cotton. This can only be a trend we will see for years to come.
Evocative natural colors rule. As designers continue to cater to comfort and practicality, there is also a trend toward natural color hues and undyed color grown fabrics. There is an abundance of texture and color in the 2006 -2007 fashion forecast, and the Eco Scrubs nature-inspired palette offers both bold colors and subtler earth tones.
Versatile, forgiving and unassumingly glamorous, the Eco Scrubs Collection rocks! Check them out at www.jonano.com and ask for them at your favorite boutique.
By: Ecobabe
EcoCouture.com
###
Contact
jonano
Bonnie Siefers
724-935-9753
www.jonano.com
1-877-ECO-9753

Contact