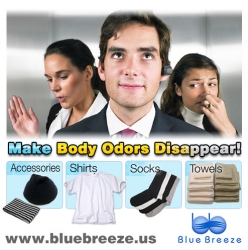 White Plains, NY, December 07, 2009 --(
PR.com
)-- "Our odor-eliminating shirts, towels, caps and socks can be purchased online at www.BlueBreeze.Us until Christmas at a special 15% holiday discount," said Arnold Yoshida, President of FMJ-USA. "Blue Breeze has amazed consumers, providing products that virtually eliminate odors coming from perspiration, urine, skin and body oils. The soft natural cotton fiber and special patented technology in each towel or garment lets users enjoy sports and social occasions without fear of unwanted odor."
Blue Breeze customers rave about the results: smelly feet, pungent underarms, and even urine smells are gone. Athletes' gear stays fresh; footwear remains free of odors; and the wearer can feel confident through a busy day, regardless of business pressures or the packed social calendar.
Why? Personal odor isn't found in sweat or urine, but comes from bacterial action, producing acidic or alkaline substances which are odorous. A special process built into the natural cotton fibers of Blue Breeze fabric neutralizes these by-products. Surprise. Odors disappear. (A video demonstration can be viewed at www.BlueBreeze.Us.)
The Blue Breeze process was invented in Japan, where athletes, medical caretakers, business professionals, and growing teens found that the natural odor-neutralizing power of the Blue Breeze products gave them new freedom.
"It's soft, comforting—and works forever," explains Yoshida. "Laundering restores the odor-eliminating power to full strength. No need for perspiration-blocking deodorants or foot sprays. And hanging a Blue Breeze towel removes urine odors from the bathroom or sickroom without constant scrubbing with strong chemicals."
"A gift of Blue Breeze is not just giving a quality garment or towel," explains Mr. Yoshida, "It's really a gift of peace of mind." Blue Breeze products can only be purchased online; check www.BlueBreeze.Us today to get your 15% Holiday Discount.
###