New Social Networking Site Focusing on the Fans
Everyone is a fan of something – now these people can come together at meetafan.com – a new social networking community that focuses on the fans – bringing them together and allowing people to share their common interests and passions. Dateafan.com recently launched as a sister site to meetafan.com – for people looking for that special connection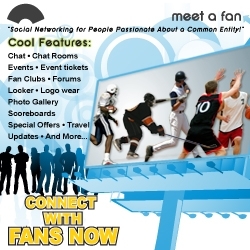 Beverly Hills, CA, October 11, 2006 --(
PR.com
)-- A new social networking platform has been launched by the folks at BON Marketing Group, Inc (
www.bonmarketing.com
) and is called
www.meetafan.com
– a social networking site for people passionate about a common interest. MeetaFan.com offers Instant messaging, message boards, locker rooms, video uploading, fan clubs, chat rooms and photo galleries.
"Commonality is the focus," says Kelly O'Shea – President of BON Marketing Group, who has also spun off
www.dateafan.com
a dating community for people with common interests in sports or music.
Irena Besic – CEO of BON Marketing Group, says, "Connecting people by what makes them passionate will be the future of the social networking community as we know it," reminding all of us that this is a very new space that is just starting to enhance user targeting.
Meet a fan at
www.meetafan.com
or date a fan at
www.dateafan.com
and communicate with those that feel the way you do!
BON Marketing Group, Inc is an online advertising agency based in Beverly Hills, CA. They specialize in results oriented online advertising. As a full service online advertising agency BON Marketing offers online advertising priced on a CPM, CPC, CPL and CPA basis, depending on clients set requirements. Their relationships span multiple search engines, web portals, CanSpam compliant email publishers, ad networks, in addition to their own proprietary network of almost 1000 sites, which is scheduled to launch in March of 2006.
Founded by Irena Besic and Kelly OShea in 2002, BON Marketing cut their teeth helping and improving media buys for direct response advertisers on the web. The internet continues to evolve and thier experience has taught them many lessons that they carry with them, educating both employees and clients alike.
BON Marketing Group, Inc believes that both life and business are based heavily on chance. Opportunity, favors the prepared person - BON Marketing alleviates the risk while maximizing the opportunities at hand. Online advertising is not an exact science which is why advertisers need an agency they can trust and learn from, making BON Marketing Group a perfect fit. This is our business This is our livelihood.
###
Contact
Bon Marketing Group, Inc
Kelly O'Shea
310-276-9252
bonmarketing.com
Ext- 222

Contact