SeQual Technologies Introduces the Sleep Comfort Care Pad by CHI-SAN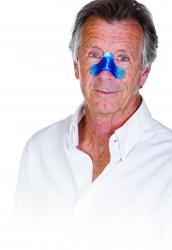 San Diego, CA, December 16, 2009 --(
PR.com
)-- SeQual Technologies Inc., a San Diego-based medical equipment manufacturer that develops oxygen systems known worldwide for their reliability, quality and revolutionary design, announced today they are distributing Sleep Comfort Care Pads by CHI-SAN LLC.
The Sleep Comfort Care Pad is intended for patients with Obstructive Sleep Apnea (OSA) who experience pain and discomfort on or around the bridge of their nose associated with using nasal or full face masks. The pad acts as a cushion between the patient's face and mask, and is simply placed across the bridge of the nose under the mask. The protective polymer gel pad is composed of USP grade mineral oil, is hypoallergenic, latex and silicone free. It is reusable, does not require any adhesives and can be cleaned with soap and water. The material and design have been thoroughly tested and proven to provide the patient with a comfortable leak free seal.
CHI-SAN has performed extensive research with some of the leading sleep research centers in the United States. They found that due to the increased comfort of the pad, patients increased their adherence with OSA therapy and did not delay or discontinue their therapy due to skin irritation. "These pads have increased patient compliance which results in a better night's sleep and a healthier life. This pad is a simple, low-cost solution that SeQual is extremely excited about being a part of," says Ron Richard, CEO.
"The idea for the Sleep Comfort Care Pad came from trying to help my mother with skin breakdown from her CPAP mask," says Jeff Chimenti, President and CEO of CHI-SAN. "I've been a musician my entire life—one night I was working with my drum set and found the perfect type of material. The next day, we started experimenting with similar materials and soon developed the Sleep Comfort Care Pad. With hard work and a mother's love, we have turned that drum set material into a real and unique solution for palliative care."
About SeQual Technologies Inc.
SeQual Technologies, founded in 1991, is a market-driven, technology-based company with the mission to develop, manufacture and market unique products for medical, military, industrial and commercial applications that utilize the Company's proprietary pressure swing adsorption (PSA) technology for air separation. Since 1998, the Company has focused on the development of medical oxygen concentrators; devices that separate oxygen from air to provide supplemental breathing oxygen to individuals with chronic lung disease. SeQual's line of medical oxygen concentrators ranges from its award-winning Eclipse oxygen system to its high-capacity Integra 10 (10 LPM) bedside unit.
About CHI-SAN LLC
CHI-SAN, founded in 2008, is a company committed to utilizing state-of-the-art design and engineering techniques to create the most comfortable materials associated with treating sleep apnea and skin breakdown for chronic or intermittent applications. CHI-SAN is committed to improving patient compliance with CPAP therapy.
###
Contact
SeQual Technologies, Inc.
Chanda Goodemote
858-202-3100
www.sequal.com

Contact