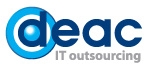 Riga, Latvia, December 18, 2009 --(
PR.com
)-- DEAC, the largest data center operator in the Baltic States and Russian National Communications Operator Synterra, have signed an umbrella agreement on strategic cooperation.
The Agreement is targeted at the exchange of up-to-date ICT-services provided by DEAC and Synterra DEAC on the basis of data centers (DC) network distribution. It should be noted that both of the companies are owners of the largest data center networks in their respective regions. The total area of DEAC's largest network of DCs within the Baltic States is 1000 m2. In 2011 it is planned to increase this to 1800 m2 according to raised floor area. The integral distribution of the national DCs network of Synterra includes seven data centers, located in Moscow, Murmansk, Novosibirsk, Stavropol, Kazan, Krasnodar and Tomsk. The total area of the Russian network according to raised floor area exceeds 2500 m2.
"Following the requirements of our customers, DEAC were looking for a strong Russian partner, which is developing contents-oriented business on the basis of DC networks. The business-model of Synterra, its connection with the network of Baltic operators, as well as its openness to new, innovative joint projects became the decisive factors in our choice," said DEAC's Chairman of the Board Andris Gailitis.
"The common infrastructure of DEAC and Synterra will become a major and trustworthy telecommunication bridge between the Baltic States and Russia," he added.
"The alliance between DEAC and Synterra is beneficial to both of the Parties: the Russian operator gets one more alternative outlet to certain European resources, and the Baltic company opens wide options for itself in terms of the development of transit business from Europe to Asia," said Pavel Kucheruk, Deputy Director General of Synterra for management of innovations and business alliances. "It gives the possibility not only to use the developed competences and infrastructure of DEAC in the interests of Russian customers of Synterra, but also to jointly develop modern ICT-projects, which use the combined infrastructure options of European and Russian partners."
The DEAC and Synterra alliance is mainly oriented at satisfying the growing demands of Russian, European and Asian companies in the sphere of telecommunications, DCs and other IT branches. In future European-Asian customers will be able to use the resources of their partners, i.e., the DC distribution networks of both Synterra and DEAC, as well as access the wide telecommunication possibilities of IT outsourcing services. In addition they will also have access to major internet resources within the territory of Eurasia with outlets to international points of internet traffic exchange in Frankfurt, Stockholm, London, Moscow, St. Petersburg, Riga and other major cities.
Such solutions help ensure business continuity, organisation of data storage, directories, search systems and video contents systems, video conferences, maintenance of temporary and permanent call-center hot lines within geographical borders, as well as provide new business possibilities.
Additional information for mass media:
Oleg Naskidayev – Head of Marketing and Development Department
E- mail:
onaskidaev@deac.eu
Telephone: +371 6707 2100,
Mobile: +371 29170 284
Ekaterina Andreeva – Press Secretary of the Company Group «Synterra»
E- mail:
Ekaterina.Andreeva@synterra.ru
Telephone: (495) 647-7777,
Mobile: +7 (926) 294-1919
###