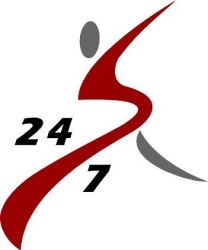 Smithtown, NY, December 20, 2009 --(
PR.com
)-- Finding time to workout is about to become a whole lot easier and enjoyable for local residents. Snap Fitness, a 24-hour Health Club providing fast and convenient facilities, is hosting a Grand Opening party at its newest location in Smithtown at 138 East Main Street on January 13, 2009 at 11:00am. For more information, contact the club at 631-979-SNAP (7627) or at
www.snapfitness.com/smithtownny
.
Easier and more affordable than larger, "big box" health clubs, Snap Fitness offers a 24-hour a day, 365 day a year exercise alternative for busy individuals who want to stay active and fit without sacrificing time and convenience. Equipment is state-of-the-art and the club and amenities are all accessed via a high tech keycard.
"We're an alternative to the full-service clubs," said Alex Leyberman, President of Snap Fitness in Smithtown. "We are a community Health Club where Families, Singles, Seniors, and Children come together in their collective pursuit of health and wellness." Alex knows from experience that this is a long awaited treat for gym goers and for fitness professionals looking to exercise or work in an exciting place. "We are a Team, We are a Family, We are a Movement" said Leyberman. "Members will enjoy the intimate atmosphere, and trainers are rewarded with the best compensation in the industry in a culture built on helping others."
Memberships start at roughly $1-a-day, with a $149 enrollment fee, however this fee will be waived for Charter Members that sign up before January 31. Charter Members will also get a dues price lock and will pay the same price for the life of their membership, thereby avoiding annual increases.
A great benefit for Snap Fitness members is the range of wellness services offered at the club," said Alex Leyberman, President. "When you enroll here at Snap, you are not just a membership number. We take your wellness goals to heart, and actively partner with you to achieve your goals. We want to know you on a first name basis, and we will keep an ongoing barometer on your path to wellness." The resident expert in Acupuncture and Eastern Medicine, Leyberman is prepared to introduce members to the benefits of the increasingly popular field."
As a 24-hour-a-day facility, security is a priority for Leyberman. The club remains locked at all times, and members enter the club with an electronic keycard. The security system includes live surveillance cameras, window and door alarms, panic alarms in the club and portable panic alarms that members can keep with them during workouts and summon the local authorities with the push of a button.
With all of these features and benefits, CEO Greg Sivin hopes that Snap will better serve the local residents.
"Snap Fitness has been very successful in cities across the country," said Sivin. "I started this business to follow my passion for fitness and to help others in the community. The affordability and convenience that Snap offers is something that I'm very excited to offer local residents, and I want to invite everyone to come in and give us a try."
For more information about Snap Fitness contact the club at 631-979-SNAP(7627) or
smithtownNY@snapfitness.com
###