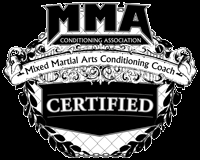 Rancho Santa Margarita, CA, December 31, 2009 --(
PR.com
)-- The National Exercise & Sports Trainers Association (NESTA), founded by Dr. John Spencer Ellis, has formed a new division, Mixed Martial Arts Conditioning Association (MMACA) to answer the call for formalized strength and conditioning for the world of mixed martial arts (MMA). Since the sports incarnation in the early 1990s, it has exploded around the globe. There are millions of loyal fans, tens of thousands of athletes and two dozen amateur and professional leagues in this sub-culture, than is rapidly becoming main stream.
By definition, mixed martial arts is a blend of various martial arts; usually Brazilian jiu jitsu, wrestling, boxing and kickboxing. When the sport first evolved, there wasn't much emphasis on the strength and cardiovascular conditioning, etc. The athletes depended primarily on their skills in the martial arts they have studied. This is no longer possible due to the advancements in sports science, sports psychology, and advanced training technologies.
CEO Dr. John Spencer Ellis states, "The MMA Conditioning Association has developed an incredibly comprehensive education and certification program for MMA conditioning coaches. The course is delivered online using hi-tech video and audio, PDFs, lectures and demonstration. The program also includes a complete business system which teaches the members how to create financial abundance doing what they love."
The MMA Conditioning Association officially launches on January 21, 2010. They are offering special incentives for the first 50 people who register within the first 48 hours. For details, visit http://www.mmaca.net.
###