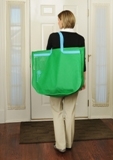 Willowbrook, IL, January 08, 2010 --(
PR.com
)-- The approach of a new year means a set of new obstacles and resolutions. Research shows that of the 45 percent of Americans who usually set New Year's Resolutions, only 8 percent are successful in achieving these resolutions. The eco-friendly Dry Greening® Bag is the easy and practical solution to the resolution to be more "green" in 2010.
"Being 'green' does not have to be challenge," says Inventor and President, Ann Foley. "There are little things we can be doing each day to reduce our carbon footprint to create a sustainable future, and what a better time to start than the New Year."
Seeing both a need and market for these reusable bags, Foley, a Chicago native, launched Dry Greening LLC in December 2008. As a stay-at-home mom, she was worried about the dangerous effects of plastic bags on our children, as well as our environment.
The bag's innovative and adaptable design allows for easy transport of clothes to the cleaners, and once the clothes are clean, the tote transforms into a garment bag, eliminating the need for plastic waste. Each bag is made from 100 percent recycled materials and features a non-woven, water-repellant design. Retailing for $8.99, the bag comes in Navy Blue, Kelly Green and Black and is available for purchase online at
http://www.drygreening.com
.
Dry Greening® has been featured at red carpet gifting events for the 2009 Academy Awards and the 2009 American Music Awards as well as in O: The Oprah Magazine's "Green Guide to Dry Cleaning."
About Dry Greening LLC
Dry Greening LLC is committed to serving the dry cleaning, hospitality, retail and promotional industries as well as individual consumers in a responsible, environmentally friendly manner. Established as a wholesale business, the company sells reusable dry cleaning garment bags that eliminate the need for unnecessary plastic dry cleaning waste, which contribute to some 100 billion wasted plastic bags a year in the US alone. For more information, visit Dry Greening LLC online at http://www.drygreening.com/
Dry Greening. Clean Clothes. Clean Planet.
Contact: Ann Foley, President
ann.foley@drygreening.com (630) 323-0833
###