Jonäno Eco Scrubs™ Debut
Natural fabrics weave sustainability and styling to medical and spawear.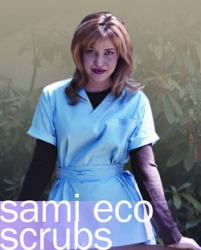 Pittsburgh, PA, October 23, 2006 --(
PR.com
)-- Jonäno announced today the debut of their Sami Eco Scrubs Collection for medical professionals. A break from the traditional poly/cotton scrub, both the cut and fabric are new and refreshing. Fabrics have come a long way since the stiff, non-breathable, polyester blends of the 70's and 80's. Nowadays, you can buy garments that have moisture-wicking, odor-fighting, and thermal regulating properties.
Jonäno™ introduces sustainable textiles into medicalwear with organically grown cotton, and naturally antibacterial and antifungal hemp fabrics leading the way. As public health consciousness grows, organically grown cotton and other eco-fibers are replacing polyester and synthetics as the natural choice.
Organically grown cotton crops produce longer more stable cotton fibers which yield stronger yarn and more durable cotton fabrics. Organically grown cotton also feels softer and is more breathable and luxurious against the skin.
But organic cotton is not the only healthy eco-fabric. Hemp is both durable and comfortable making it a natural choice for the EcoScrub Collection. Hemp has thermal-regulating qualities and can be woven into breathable linen weaves. Natural organic hemp fiber is biodegradable, mildew and fungal resistant and does not require harmful herbicides, fungicides or pesticides in farming due to its natural antimicrobial resistance.
"The Eco Scrub Collection is designed to offer healthcare and spa professionals a great alternative to the poly/cotton uniform that has been the standard for the industry" said Bonnie Siefers, designer and owner of jonäno, "and with the addition of eco-fabrics and the influence of style trends these pieces transition well into mainstream. A scrub is the perfect clothing choice for bumming around the home or working on the computer. Just as jeans and painter's pants have made the leap from workwear to casual, streetwear and now even evening, scrubs have the qualities needed to attain mass appeal."
Compared with conventional scrub construction, jonäno™ has taken the medical uniform to a whole new level. Designed for Comfort with Benefits, jonäno™
http://www.jonano.com/.
Headquartered in Pittsburgh, PA, Jonäno™ is the first scrub company on Earth specializing in eco-fabrics and sustainable textiles.
You can check them out at http://www.jonano.com/ or call for their free brochure 1-724-935-9753.
Interview Contact: Bonnie L. Siefers, jonäno™ owner/designer
Telephone: 724-935-9753
bonnie@jonano.com
jonäno, A Division of Sami Designs, LLC
2582 Wexford Run Road, Wexford, Pennsylvania, USA 15090
Mobile 412-927-4165 (USA 011) or 724-766-4493 Fax 724-935-9753
###
Contact
jonano
Bonnie Siefers
724-935-9753
www.jonano.com
1-877-ECO-9753

Contact