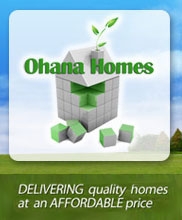 San Diego, CA, January 25, 2010 --(
PR.com
)-- With over 30 years' experience in real estate, construction, development and project management, Ohana Modular Homes has made providing affordable quality homes its mission. Given the current depressed economy and knowing that modular homes save money and time, Greg Heydon, Founder of Ohana Modular Homes, believes he can make a difference for those families that still are looking for the American dream, but need a more affordable route to get there.
The website, designed by Blue Planet Studio, Inc., a marketing communications and graphic design firm, outlines in detail the benefits of choosing modular versus a site-built home and defines the difference between a modular home and a mobile home. "There has been considerable confusion regarding modular homes and the public need to be educated about the high level of quality a modular home can offer, not to mention, the production process is completely eco- friendly," explained Mr. Heydon.
About Ohana Modular Homes, Inc.
Ohana Homes is a division of Modular Building Systems, Inc. providing the latest in system-built technology to home construction. Our factory built homes are constructed to same building codes as site built homes in environmentally protected building centers. Ohana Homes can be constructed to any size and once assembled are structurally superior and cannot be distinguished from traditional stick- built construction. The factory process allows better quality control, less waste, and faster building cycle resulting in 10% to 25% savings compared to traditional counterpart. Modular homes are common in many parts of the County, however, the West is an untapped market and we expect factory-built construction to rapidly gain in popularity. For more information, visit the website at
www.ohanamodularhomes.com
About Blue Planet Studio, Inc.
Blue Planet Studio, Inc., is a marketing communications design firm and specializes in print, web, multimedia, motion graphics and 3D animation studio, providing high-end graphics and animation to the high-tech community. Further information on Blue Planet Studio may be obtained the Internet at
www.blueplanetstudio.com
or by contacting the company directly at (858)748-7000.
Source: Ohana Modular Homes, Inc.
Ohana Modular Homes
Media Contact: Greg Heydon
Tel: 760-580-1452
###