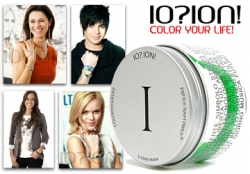 Los Angeles, CA, January 27, 2010 --(
PR.com
)-- IOION, the Italian fashion craze of innovative, waterproof watches in vibrant colors is now launching its already highly-coveted line "IOION Classic" for the first time in North America. Loved and followed by press and media, celebrities like David Beckham, Victoria Beckham, Fergie, Adam Lambert, Kirsten Dunst and Lindsay Lohan find reason to wear these amazing watches all the time.
IOION Classic is comprised of over twenty fresh colors, four sizes and a distinct, unisex style that is both waterproof certified, and beneficial to the health. The ultra light silicon wristband is treated with Tourmaline, the world's most powerful ionic mineral.
Consistent to its campaign "COLOR YOUR LIFE," IOION continuously updates its collections with amazing new colors adding viability and uniqueness to the brand. Trendy offerings such as neons, pastels and glow-in-the-dark enhance the basic color palette to better meet the desire to be both fashionable and comfortable anytime, anywhere.
IOION Classics retail at a recession chic $20-$25 per item and is uniquely packaged in a beautiful jar, making it a perfect gift for men, women and children alike. IOION Classics are currently available online at
www.ioion.us
and at over 200 retailers across the world.
###