EBE Ensemble to Present Third Annual Award Winning Festival of New One Act Plays in New York
EBE Ensemble to present their third annual festival of new one-act Plays: Elephants on Parade 2010 featuring new plays by: Erin Austin, Libby Emmons, Rebekah Lopata, Rhea MacCallum, Nicole Pandolfo, & Isaac Rathbone. Directed by: Eric Alba, Kristine Ayers, Alfred John Heekin, Charley Layton, Lexie Pregosin, & Jonathan Reed Wexler. Begins performances March 9, opening March 10 at Teatro IATI in New York.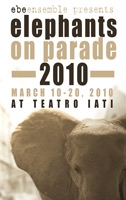 New York, NY, February 05, 2010 --(
PR.com
)-- EBE Ensemble (Eric Alba, Artistic Director; Montgomery Sutton, Executive Director) will present the third-annual installment of their award winning festival of new one-act plays, Elephants on Parade 2010. Performances will begin on Tuesday, March 9, opening Wednesday, March 10 through March 20 at New York's Teatro IATI (64 E. 4th street, between 2nd Avenue and Bowery). Tickets are $15 and can be purchased at www.SmartTix.com or call 212-868-4444.
Two plays from last year's Elephants on Parade 2009 were nominated for Best New Short Play at the New York Innovative Theater Awards (www.nyitawards.com), Ira Gamerman's Dated: A Cautionary Tale for Facebook Users and Nico Vreeland's The Interview, which went on to win the award.
Elephants on Parade 2010 features five world premieres and one New York area premiere that examine the peculiar difficulties of communication and connection in the 21st century. Erin Austin's "Buddha Nosh" is a comedy about spiritual, social, and emot­ional independence at a trendy Pan Asian restaurant, where lust, booze, and the all-knowing voice of Buddha explode in a medley of gong banging, romance, and fist fights. Isaac Rathbone's "Nice Paper" follows the inner monologues of two commuters on the Subway, a woman in love with the man behind her; the man in love with her newspaper's sports section. In Nicole Pandolfo's "Things to do in New Jersey," a girl returns from her first year at college to a hometown party where she comes face to face with the high school crush that rejected her, causing emotions of the past and present to collide. Set in the squeamish morning after, Libby Emmons' "Leaving Last Night" is a comedic web of texts, connecting and disconnecting five people trying to navigate the murky waters of human interaction. In Rebekah Lopata's "What if I Don't," a bride locks herself in a bathroom with a gun on her wedding day. When her best friend tries to help from outside, the unleashing of repressed emotions takes them to a place neither suspects. And in Rhea MaCallum's "Selling Beaver," two cheerleaders discover the perils of offloading their beaver at a local pawn shop.
The Cast includes: Eric Alba, Eve Danzeisen (The Old Globe's A Midsummer Night's Dream & The Winter's Tale, "Guiding Light"), Scout Durwood, Genevieve Hudson-Price (HBO's "The Wire"), Janet Passanante (Atlantic Theater Company for Kids' Really Rosie), Hal Fickett (Kean Company's Tea & Sympathy) Jessica Rothenberg (The Huntington Theatre's The Cherry Orchard), and Montgomery Sutton (White Horse Theater Company's Clothes for a Summer Hotel).
Set and Sound design is by Joshua B. Jenks, costume design is by Amanda Jenks, and scenic design is by Kaitlyn Mulligan. The plays will be directed by Eric Alba, Kristine Ayers, Alfred John Heekin, Charley Layton, Lexie Pregosin, and Jonathan Reed Wexler.
EBE Ensemble is an ensemble based theater company, founded in 2006 by a group of NYU/Atlantic Theater Company graduates, dedicated to developing new works and new interpretations of classics through the structure of its Ensemble while empowering its members to take on unfamiliar roles within the not-for-profit and artistic realms. For playwrights, the ensemble is a unique living canvas through which they can create and further develop their work. For audiences, the ensemble provides an artistic constancy through which vibrant new and classic voices come together, broadening the scope of the New York theatre community and enhancing the experience of theater audiences. Now in their third season, EBE Ensemble has produced seven fully staged productions and created the "You Fill in the Blank" play festival and competition in addition to the national one-act competition and festival, Elephants on Parade.
About the Playwrights
Erin Austin's previous work, co-written with Ross Evans, includes Hindsight, Keep It Short, MayDay, Apocalyptic Revelations, and Finger Paint (a Backstage.com Critic's Pick at FringeNYC 2009.) Erin is an Equity actor who has toured nationally and performed in NYC. She earned her B.F.A. at University of Miami and co-founded the Plastic Flamingo Theatre Company. www.erinLaustin.com
Libby Emmons. Co-producer: Blue Box's Sticky. Clubbed Thumb Biennial Commission 2009. "The Worm Turns at the Fort Peck Hotel," 2009 NY Theatre Review. Film: "I Miss You" Acorn Films, LA, 2010; "Malcolm & Margerie," 2010. Full-lengths: The Girls From Afar, reading: East West Players, LA; Desipina, NYC.; finalist Yale Drama Series 2010; The Little Room, short listed: BBC's 2009 Radio Play Competition. Shorts: NYC, LA, Buffalo, Sacramento, New Zealand, Argentina; Collaborator: Polybe + Seats. BA: Sarah Lawrence, MFA: Columbia.
Rebekah Lopata's plays have appeared in theaters throughout the United States and Canada, including productions at the New Jersey Repertory Theater Company, Stageworks Hudson, Bloody Unicorn Theater Company, ReGroup Theatre in Los Angeles, Brown Couch Theatre in Chicago, New Studio Rep, Louisiana State University, and the Walking Fish and Brave New Play Rites festivals in Vancouver. She is the winner of the 2009 University Graduate Fellowship at the University of British Columbia for her play, For All These Sins.
Rhea MacCallum's credits include: Baby Secrets (Cheeky Monkey), Getting Back to Me (Acme New Works), Name Me (Theatre Encino), Flushed Suicides (Stage Left Studios), Baby Blues (MADAIR Productions), A Little Experimenting (Native Aliens, Strings Attached), Resurrection for Dummies (Stormy Weather Players), The 7th Disorder (TADA!'s 15th Annual Playwriting Contest winner, Westbeth). Rhea holds degrees from USC and New School University and belongs to the Dramatists Guild, ICWP and ALAP. Yesterday Once More was a finalist for the 2004 Heideman Award.
Nicole Pandolfo holds a BA in Metropolitan Studies from NYU. Her play "Canadian Tuxedo" was produced in Boston, London, California, New Mexico, Melbourne, and Singapore. It won the People's Choice Award at the Short + Sweet Singapore Festival and will be published in the 2010 Best Ten-Minute Plays by Smith and Kraus. "Love in the Time of Chlamydia," which she wrote, directed, and performed at the Estrogenius Festival in October, will be published in The Book of Estrogenius in 2010. She has studied with Craig Lucas, Gretchen Cryer, Austin Pendleton, Donna de Matteo, and Julie McKee.
Isaac Rathbone's NYC credits include Breakfast for Dinner (NYC International Fringe Festival); The System (Kraine Theatre); There's Always A Band (Sam French Festival); Jon Katsberg (Sam French Festival & The Queens' Players); and The Audition (Brooklyn Lyceum). His true crime drama, Little Eva, premiered in June 2009, in Cooperstown, NY. Other credits include Death & Motor Vehicles (Theatre Three, SLAMBoston, Camino Real Playhouse & Shelterbelt Theatre), Hold The Bus (SUNY Brockport & NewGate Theatre) and The Guests At Table 11 (Actors Theatre of Louisville Heidemen Award finalist).
Elephants on Parade 2010
plays by Erin Austin, Libby Emmons, Rebekah Lopata, Rhea MacCallum, Nicole Pandolfo, Isaac Rathbone, directed by Eric Alba, Kristine Ayers, Alfred John Heekin, Charley Layton, Lexie Pregosin, Jonathan Reed Wexler
Runs Wednesday, March 9 – Saturday, March 20, opening night is Wednesday, March 10
Performances schedule: Wednesday-Saturday at 8PM; March 14th & 20th at 3PM (added performance: Sunday, March 14th at 8PM)
Teatro IATI is located at 64 E. 4th St. (between 2nd Avenue and Bowery)
Tickets are $15 ($5 during previews.). Student rush tickets are available for $10, subject to availability.
Tickets can be purchased at www.smarttix.com or by calling 212 868 4444
For more information, please visit www.ebeensemble.com
Running-time is 1hr 25 minutes without an intermission.
Press performances are Wednesday-Sunday, March 10-14th at 8PM; Sunday, March 14th at 2PM.
Playwrights, Directors, and cast are available for interviews. To arrange interviews and press seats please contact Company Manager Genevieve Hudson-Price / genevieve@ebeensemble.com
###
Contact
EBE Ensemble
Montgomery Sutton
214-263-7015
www.ebeensemble.com

Contact