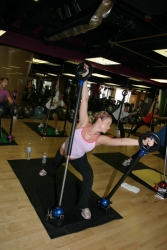 Des Moines, IA, February 15, 2010 --(
PR.com
)-- ComFit Solutions, a distributor of premium specialty fitness, rehabilitation, & physical therapy equipment for commercial use, today announced it has signed an exclusive agreement to distribute the innovative Orbital 360 manufactured by 3D360 Technologies this Spring of 2010. ComFit Solutions will distribute the products to the commercial market in the Midwestern United States.
The Orbital 360 further expands ComFit's already broad portfolio of commercial fitness & therapy products. "The brand complements our objective of providing customers with equipment that is durable and easy to use. Plus, the Orbital 360's world-class, ground breaking design also fits with our philosophy of promoting products with industry-leading functionality and biomechanics," said Joseph L. Noel, President & CEO, ComFit Solutions.
"This alliance will create a new system of rehab that focuses on a continuum of Static/Dynamic philosophies. Using ComFit Solutions' Static WAVE Technology, (Whole Body Advanced Vibration Exercise), combined with the Orbital 360's Dynamic 3 Dimensional resistance capacity, new programming will be created to enhance the rehabilitative process for a myriad of neuromusculo-skeletal disorders," said Dr. David Lipman
-About ComFit Solutions' WAVE Based Technology-
Wave Vibration technology was initially introduced by the Russian Space Program to help their cosmonauts maintain bone density in a zero gravity environment. Since then, vibration has been researched and found successful to help maintain a healthy life for people of all walks of life. Through using gentle, involuntary contractions of the muscle fibers, WAVE has developed a technology that increases muscle recruitment, circulation, and bone density, just to name a few. WAVE helps athletes rehabilitate from an injury as well as helping someone with MS improve motor skills. The vibration technology creates bio-mechanical muscle stimulation that translates as exercise to the body. People suffering from a recent injury or debilitating disease are limited to the amount of traditional exercise that they can do, but not vibration. The simplicity of the WAVE allows anyone to benefit from simply holding a static pose while on the vibrating plate. Recruiting up to 100% of the muscle fibers, and contracting them up to 60 times/second, WAVE can provide a full body workout in as little as 15 minutes.
-About 3D360's Orbital 360 Innovations-
Orbital 360 technology is the first technology to provide constant and consistent resistance throughout the 3 dimensional plane, which allows the body to be stimulated across entire kinetic chains. The enhanced neuromuscular stimulation provides a more rapid rehabilitative response while concurrently creating a strength stretch and cardiovascular response on the system. The movement and resistance components of The Orbital 360 design are modeled from the ball and socket joints of the human body. It is through this mechanism that the 3 dimensional motion capabilities and friction based resistance is achieved. The unit is further substantiated by the telescoping poles and radial handles that are aligned biomechanically with the function of both the lower and upper extremities of the body. The resultant technology provides a new direction in both rehabilitative and fitness science that has never been seen prior and stands to re-write the current accepted methods of those industries.
-Summary-
The combined systems of ComFit Solutions' WAVE whole body vibration and Orbital 360 technologies create rehabilitative and fitness programming that graduates on a continuum from a static to dynamic protocol. This will take patients from a functionally disabled and deconditioned capacity and bring them through a process that will take them back to a more effectively functioning and conditioned neuromusculoskeletal system.
This press release may contain forward-looking statements. There are a number of risks and uncertainties that could cause actual results to differ materially from those anticipated by the statements above. These include, but are not limited to, competitive factors, technological and product developments, market demand and economic conditions.
Editorial Contacts:
Dr. David Lipman
3D 360 Technologies
(561) 674-1217
drdavidlipman@gmail.com
www.orbital360.com
Joseph L. Noel
ComFit Solutions
(515) 964-0988
jnoel@comfitsolutions.com
www.comfitsolutions.com
###