New Travel Trend Taking Off - Vacationing at Nudist Resorts
Nudists resorts have been in the news lately. From "Dear Abby," to "Dear Annie," to "Ask Ellie," to a recent Associated Press article, it seems everyone is writing about the fun of vacationing at nudist resorts.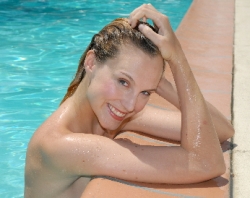 Palm Springs, CA, November 01, 2006 --(
PR.com
)-- Why the sudden interest? Consider the Terra Cotta inn Clothing Optional Resort and Spa located in sunny Palm Springs, CA.
http://sunnyfun.com
Originally built as a celebrity boutique resort by the famous architect Albert Frey in the historic mid- century modern design, it is Palm Springs's most popular resort.
In 1994, Tom and Mary Clare Mulhall purchased The Terra Cotta Inn and restored it to its glamour days of when the Rat Pack and all their friends sipped martinis poolside there. With repeat guests from all around the U.S., Canada, England, and Australia, it is now the place to stay in Palm Springs, CA.
Why is The Terra Cotta Inn so popular? There are other nudist resorts in Florida and the Caribbean, yet nudists and "first timers" love The Terra Cotta Inn. The beauty of this nude resort is everyone kicks back and relaxes to the max. As one of the few nudist resorts in the world that caters to couples, you don't have to listen to noisy kids running around disturbing you. The hardest decisions you will have to make is when to schedule your massages and what times to eat your meals.
Without kids around, couples immediately go from mom and dad mode into a romantic husband and wife relationship again. You are reminded as to why you initially fell in love and still feel that way. It is no wonder that The Terra Cotta Inn has one of the highest repeat guest rates in the travel industry at just over a 75% rate.
Called the most mainstream nudist resort in America, the Terra Cotta Inn is the best resort for couples trying nude sunbathing for the first time.
Your first experience at a nudist resort is so important as not all clothing optional resorts are alike. For example, couples would not want to go to nude hotels catering to families and their kids. So if you want to be pampered, relaxed, have lots of fun, and your best vacation ever, give The Terra Cotta Inn a call at 1-800-786-6938. You will be glad that you did!
###
Contact
The Terra Cotta Inn Clothing Optional Resort and Spa
Tom Mulhall
1-800-786-6938
http://sunnyfun.com

Contact