Perilune Pictures Releases "L.E.W," New Documentary About Louis Wolfson, the First Corporate Raider on Wall Street
Perilune Pictures completes documentary film about the life of Jacksonville, Florida native Louis Wolfson, the first corporate raider on Wall Street who became one of the wealthist men in the US in the 1950s by taking over dozens of public companies before his downfall on charges of insider trading.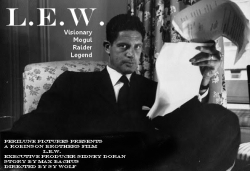 Savannah, GA, March 01, 2010 --(
PR.com
)-- Perilune Pictures, a startup film company based in Savannah, Georgia, is scheduled to release the film "L.E.W." a documentary based on the life of America's first corporate raider, Jacksonville, Florida native Louis Wolfson. Wolfson is credited with creating the leveraged buyout and creating a new era on Wall Street.
"We felt a film about Lou Wolfson would be well received in this era of high finance on Wall Street," said Perilune Pictures founder Sidney Doran, who started the company with his brother in law, Sy Wolf. "We have shown early versions of the film to some of today's legendary hedge fund managers and they are all intrigued and inspired by his life," said Wolf, who also directed the film.
The film covers the launch of Wolfson's business career in the 1940s, when he borrowed $10,000 to expand his father's Jacksonville, Florida based scrap metal business into controlling stakes in commercial and industrial companies throughout the United States. His reach was so vast and diverse that he even launched the film career of comedian Mel Brooks after Wolfson financed his first film, "The Producers." Wolfson went on invest in bridge and dam construction, major shipyards, American Motors Corp. and Capital Transit Company, the precursor to the Washington, D.C. Metro. By the mid-50s, Wolfson's net worth was estimated at over $250 million dollars, making him one of the wealthiest and most feared men in corporate America.
The filmmakers discovered new archival material about Wolfson, including his role as the major financier behind many Presidential candidates, as well as his involvement with a US Supreme Court Justice who was forced to resign from the court after receiving payments from Wolfson. After a controversial investigation by the S.E.C., Wolfson was convicted of insider trading in 1967. In 1971, Talkshow host Larry King was arrested for grand larceny after Wolfson filed charges against him. "We discovered some evidence he may have been using King in an attempt bribe President Nixon to secure a presidential pardon," said Doran.
After serving nine months in a federal minimum security prison in Florida, Wolfson left Wall Street to devote the rest of his life to horse racing. In 1977, his horse, Affirmed, won the Triple Crown. Many considered the victory a redemption for a man who was one of the most famous businessmen in the country. In 2008, Wolfson passed away at the age of 95. To date, no horse has won the Triple Crown since Affirmed.
The film was written by Max Bachus, a screenwriter based in New York City who actually knew one of Wolfson's first accountants. "Anyone who met Wolfson was aware they were in the presence of greatness," said Bachus. "The film explores the life of a man who literally created modern Wall Street but his story has been largely forgotten by today's star hedge fund managers and corporate takeover artists. They all owe Wolfson a debt of gratitude for the legacy he created."
The documentary is being released in mid-March. Perilune Pictures has set up a website for the film "L.E.W." including a trailer and background information of Wolfson's life at http://lewthemovie.blogspot.com
Contact:
Sidney Doran
President
Perilune Pictures
(646) 719 - 0443
###
Contact
Perilune Pictures
Sidney Doran, President
(646) 719 0443
lewthemovie.blogspot.com

Contact
Multimedia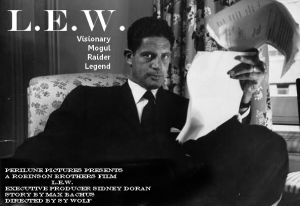 Film Poster for New Perilune Pictures Documentary, "L.E.W." about life of Louis Wolfson, Wall Street's first Corporate Raider