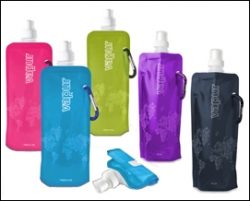 Santa Barbara, CA, March 04, 2010 --(
PR.com
)-- Envere has begun a relationship with Vapur, Inc. of Westlake Village, CA to provide sales and distribution services for the Vapur line of re-usable beverage bottles. Geared to reduce the amount of plastic in the environment while allowing users to take their favorite beverage with them wherever they go, Vapur bottles have been given high marks by users.
Differing from other plastic drinking bottles the Vapur line is BPA-free and carries no odor or taste to affect the liquids they contain. They can be cleaned in the dishwasher, frozen to enhance cooling in ice chests as well as providing frosty cold drinks and they clip to clothing or gear with a built-in caribiner. When empty, the Vapur bottle simply flattens and folds for stowing in pockets, purses, backpacks, gear bags or wherever handy.
"These unique bottles also offer up some great savings," says Tom Isaacson president of Envere. "Making use of tap water rather than expensive pre-bottled store water is just one way users save. A check of details on the Internet quickly shows the majority of pre-bottled waters to be nothing more than filtered tap water - something we can all manage from home or office. Paying just $1.00 per bottle per day for pre-bottled water translates to $365 per year on top of what most of us already pay to have high quality water delivered to our homes, offices or schools. Obviously, costs, bottles consumed and other factors will affect this equation but no matter how you slice it, it's a double hit to the budget.
"Further benefits are realized because it takes just one truckload of collapsed Vapur bottles to deliver the equivalent of nine truckloads of air-filled, non-collapsing bottles. Obviously, this provides a very big savings in fuel and related costs and provides a huge environmental boost with fewer trucks on the road.
"These savings plus the fact that Vapur helps keep plastics out of our waterways and off our beaches, trails and wild areas make for even bigger gains. The reality is that most plastics don't biodegrade but simply break down into smaller and smaller pieces over hundreds of years during which time they can alter natural processes, injure or kill wildlife and enter our food chain which makes Vapur a stand-out winner from any perspective."
Vapur bottles are in stock and available for purchase with more new items on the way from Envere in coming weeks.
Vapur is the second major product line offered by Envere Marine and compliments the Holmenkol line of lubricants, UV protectants, water proofers and drag reducers already available from the company.
Envere
P.O. Box 31040
Santa Barbara, CA 93130
info@envere.com
http://www.envere.com
###