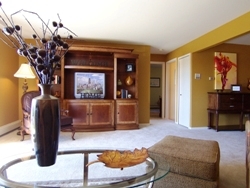 Naperville, IL, March 04, 2010 --(
PR.com
)-- The Ponds Of Naperville Condominiums
Exclusive Naperville Illinois Condominiums on sale for less than a rental.
Never before. The Marquette Companies, Developer of The Ponds of NapervilleCondominiums negotiates new deal and passes huge savings on huge condos to buyers. Buyers can now buy for less than a rental and benefit from built in upside.
There is a bright light in the real estate market where a buyer can purchase a condo with a built in upside, a mortgage for less than rent, and a maintenance free lifestyle in coveted Naperville. The
Marquette Companies
, an established developer in the Naperville area for over thirty years has successfully renegotiated a new loan on the development enabling them to offer $50,000 savings, to buyers who purchase a condominium at The Ponds of Naperville. There is a shelf life on the opportunity and buyers need to enter a contract to purchase prior to April 30th, 2010. While most developers are folding up their tents and going home, how did this offering come to pass? "We have been around a long time. We are a solid company with long standing relationships with our lenders. Because of that, we were able to renegotiate the development loan which allowed us to offer pricing that is way below market, and pass along the savings to our purchasers." Says Jeff Prosapio, partner with Marquette. "It's no secret that the real estate market softened. We aren't new to market cycles. Our relationships and track record allowed us to offer this to our buyers." Says Prosapio." The Naperville Condos are at 75th and Modaff Road in Naperville and offer large one and two bedroom condominium
floor plan
styles.
Amenities
are also part of the package. There is an outdoor swimming pool, club center with cyber café, fitness center, and party room. Parking is included, and the units are larger than any comparables in the area. Megan Tucci, with Ryan Hill Realtyis the sales manager at the Ponds. "This is by far the most attractive pricing I have ever seen. To be able to offer buyers a purchase price that beats a monthly rental is rare if not unheard of. The value is obvious. Since over 50% of the units are already sold, the increase in value is built in," Says Tucci. "If you don't think you can buy, I suggest you take a second look. The pricing program reduces the typical up front costs to purchase. People are surprised at how little it takes to purchase. First time home buyers can qualify for 99% financing with a down payment of less than $1000." Beams Tucci, "All I can say is hurry. This is the time to buy." Pricing for a two bedroom unit is reduced to $124,900 for a large 2 bedroom 2 bath condominium in Naperville. For up to the minute availability and to schedule a tour, contact Megan Tucci at
mtucci@ryanhillrealty.com
or at (630) 848-0488. Click for more information
about the Marquette Companies .
Contact: Megan Tucci
1333 Modaff Road., Suite C1,
Naperville, Il 60565
Phone ( 630) 848-0488
mtucci@ryanhillrealty.com
www.pondsofnaperville.com/
http://www.marquettecompanies.com/
###