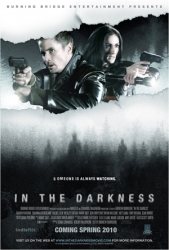 Los Angeles, CA, March 30, 2010 --(
PR.com
)-- "In The Darkness" is the first feature length narrative film to premiere exclusively on Hulu.com and is available to watch for free on the site, starting today.
"In The Darkness" centers on the disappearance of two young men in a remote, fire ravaged mountain range and the team of detectives called in to investigate the incident. As efforts to find the missing young men intensify, Detective John Kilmer begins to suspect that they are in fact looking for something far more sinister.
The film is the debut release from Mattoid Entertainment, a production company specifically tailored to create first-run feature content for release via online platforms. Mattoid Entertainment, the brainchild of "In The Darkness" writer/director Andrew Robinson and producers Jenna Edwards and Jeremy McGovern, teamed with IndieFlix Inc. for this online release.
"Traditionally, movie distribution is prioritized first to theaters, then to DVD with online trailing as a distant afterthought," said Robinson. "Our mission is to distribute and tailor first run content for an online-based release to give viewers the ability to access and experience our content wherever and whenever they want. "In the Darkness" is the first of many movies that will help position us as a pioneer in this underutilized new medium."
###
For more information, please contact:
Monica Rohleder
Rohlan PR
monica@signalrockcomm.com
847-606-1973