Gary S. Goldman, Ph.D. Releases New Book Illustrating His Research Findings on the Varicella Vaccine & Its Effects on Public Health
Equal parts medical exposé, medical mystery, and urgent call for action, The Chickenpox Vaccine, a book based on scientific research by insider Gary S. Goldman, Ph.D., reveals Mr Goldman's findings on the vaccine and its effects on public health.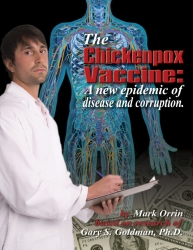 Pearblossom, CA, November 14, 2006 --(
PR.com
)-- Based on Gary S. Goldman's scientific research, this medical exposé identifies the author's findings regarding the vaccine and its effects on public health from mass chickenpox vaccination, which the CDC recommended shortly after the Food and Drug Administration (FDA) approved the vaccine in March, 1995.
From 1995 through 2002, Gary S. Goldman, Ph.D., served as a research analyst for a CDC-funded study on the effects of universal varicella vaccination.
From his research for the CDC-funded Varicella Active Surveillance Program (VASP) of Los Angeles County Department of Health Services, following a study population of 300,000, Goldman says, "I suspected that exposure to a child with chickenpox provided immunological 'boosting' to help postpone or protect against shingles, a theory first proposed by Dr. R. Edgar Hope-Simpson in 1965. If this hypothesis were true, then the near-eradication of childhood chickenpox in response to universal varicella vaccination would dramatically increase the incidence of shingles. From 2000 to 2002, I found the highest incidence rate of shingles ever reported among unvaccinated children with a previous history of natural chickenpox in the study community. I also found a statistically significant increase in shingles among adults in the study community."
Goldman has continued his mission to raise public awareness and to call for accountability in the medical research establishment. Since 2004, Goldman has served as Editor-in-Chief of Medical Veritas: The Journal of Medical Truth. He has authored articles on varicella vaccination and shingles incidence in the peer-reviewed journals Vaccine, International Journal of Toxicology, Pediatrics, and the Journal of the American Medical Association.
In the same vein as David Kirby's best-selling Evidence of Harm but based on the painstaking research of a true insider, The Chickenpox Vaccine exposes the ills, both social and medical, that occur when profits are put above the public health.
###
The Chickenpox Vaccine may be ordered in soft or hard cover, 300-page book at
www.injectionbook.com/chickenpoxvaccine.html
Contact
Medical Veritas International Inc.
Gary S. Goldman, Ph.D.
661-944-5661
www.medicalveritas.com
www.injectionbook.com

Contact