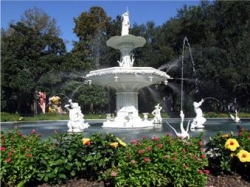 Savannah, GA, April 17, 2010 --(
PR.com
)-- C. Savannah, Savannah Georgia's one stop shop for the
"Best Tours" in Savannah
, expands its "Best Tours" list in 2010. "We only provide the best tours to our customers," said Michael Preston of C. Savannah. "Our customers want to know that we have personally screened each tour for a wonderful experience."
"Whether it's a Trolley Tour, Horse & Carriage, or Walking Tour, each experience is personally screened before we sell our first ticket. Our reputation is on the line. We stand behind every ticket sell," said Mr. Preston.
"We have a lot of walk-in customers due to our location next door to the historic Cotton Exchange (42 East Bay Street). They trust C. Savannah will put them on the very best tour. Whether it's a historic tour, ghost, Paula Deen, Midnight in the Garden, Civil War, or one of our other specialty tours, our customers trust C. Savannah.
"C. Savannah specializes in the Best Tours and Most Original Gifts from Savannah. Whether you want a private Horse and Carriage, or an original Savannah gift, C. Savannah is here to provide the best experience possible for all our visitors," continues Mr. Preston.
To learn more about C. Savannah, visit their store online at
www.Csavannah.com
. To inquire about custom tour packages or unique Savannah gifts, call them directly at (912) 233-3667. The e-mail address is info@Csavannah.com.
###