1in3Trinity Launches Faith-infused Clothing Line at Celebrate Freedom 2006 Concert
Another American dream is realized as 1in3Trinity launches its signature clothing line at the largest free outdoor concert in America - Celebrate Freedom 2006.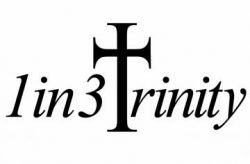 Southlake, TX, November 20, 2006 --(
PR.com
)-- 1in3Trinity partnered with Dallas radio station 94.9 KLTY and Interstate Batteries, alongside of several other Christian businesses and organizations, to sponsor the largest free outdoor concert in America - Celebrate Freedom 2006.
In addition, 1in3Trinity launched their signature fashion line during the festive event. "We bring a dynamic attitude to our clothing and accessory line, and this special event was the perfect place to encourage everyone to live out their faith," shares Co-Founder and President Paula Masters.
"The idea for the clothing line has been a dream come true. And there was no better place to launch our new line of faith-infused clothing and accessories," says Masters, "than this one that brought people together to celebrate the love of God through the gift of music! The 1in3Trinity brand of clothing and accessories profoundly expresses and communicates God's enduring love for all people."
The 16th annual Celebrate Freedom Concert was held on the grounds of South Fork Ranch in Parker, Texas, the former home to oil tycoon J.R. Ewing on the television series "Dallas." This years outdoor music event attracted over 150,000 people of all ages. Featured Christian recording artists included Chris Tomlin, Jeremy Camp, Mark Schultz, MercyMe, Michael W. Smith, Mathew West, The Afters, Kutless, Building 429, Joel Engle and many more talented performers.
"The 1in3Trinity clothing line is a unique and innovative lifestyle brand that was embraced by this festival audience,"says Co-Founder and Vice President Lori Norwood. "In our hearts, our hope and vision for our company is to offer people relevant fashion that impacts their lives in a positive way." The 1in3Trinity brand is the perfect place where fashion meets truth - and where art expresses God's love. "We are proud to have introduced our line at Celebrate Freedom 2006," says Masters, "and honored to have been a part of this event."
For more information, please visit
http://www.1in3Trinity.com
###
Contact
1in3Trinity
Paula Masters, Co-Founder and President
817-421-9900
www.1in3Trinity.com

Contact