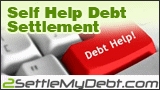 Scottsdale, AZ, May 10, 2010 --(
PR.com
)-- Self Help Debt Negotiation website, www.2SettleMyDebt.com was created by a Credit and Collections insider to assist consumers in negotiating directly with their creditors utilizing a "Work with your Creditors" approach. This website was created to combat Debt Settlement Companies and their sometimes unscrupulous tactics. Consumers who are seriously considering debt settlement should be aware that there are alternatives.
2SettleMyDebt.com provides their users with secure internet access to "user specific databases" and preformatted letters that assist individuals in negotiating directly with their creditors. Their website also provides the users to choose either debt reduction or debt settlement programs. Both programs are fully explained and facilitated by their Patent Pending method of debt negotiation.
Once a consumer signs up for this Self Help debt negotiation web based program, they have secure individual access to the databases, video tutorials, explanations of both the debt settlement and debt reduction methods. The website also provides the users a complimentary copy of "The Debt Settlement" eBook written by a debt collector to assist consumers in their negotiations with creditors.
DIY Debt settlement is not that difficult if consumers have the knowledge and the tools they need. 2SettleMyDeb.com provides their subscribers with the knowledge and tools, as well as a step by step method to successfully negotiate directly with their creditors. To see a video demonstration of the process utilized visit
http://www.2SettleMydebt.com
for more information on their Patent Pending Method of debt reduction.
For additional information on the news that is the subject of this release
Contact:
Ian Stanton,
Director of Marketing
###