U N I Publishing Co. Proudly Presents the Debut Work from Author/Publisher Linnell S. Dowling, "Living at Home - a Memoir" on Tuesday, June 1, 2010
This 194-page memoir details in part, thirty-six years of Mr. Dowling's often perplexed and confused but blessed life style growing up on the rough streets of Baltimore, Maryland; with a dysfunctional family, living with grandparents and relocating across the country, etc. This story evolves around a young man having to make tough decisions that were influenced by his environment.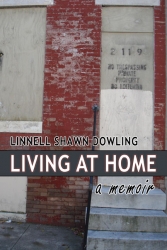 Waldorf, MD, May 25, 2010 --(
PR.com
)-- U N I Publishing Co. to Release New Memoir from Best Selling Author, Linnell S. Dowling, on Tuesday, June 1, 2010
"You know the saying; God can do anything but fail. Living at Home is a true testimony of all the marvelous things He can do for you, to you and through you. That is, if you allow Him too. I consider it an honor and a blessing to edit this book for such an inspiring young man who can honestly say that, "trouble doesn't last always." Don't miss out! It's encouraging! It will make you laugh and cry. The anticipation will cause chills as you try to figure out what will happen next." -Pam J. Sherbia, Editor, Annapolis, MD
Waldorf, MD- Tax Professional-turned-author/publisher Linnell S. Dowling (
www.linnellsdowling.com
) is proud to announce the publication of his first book, "Living At Home- a memoir." Born in Philadelphia, PA and raised on the streets of Baltimore, MD, Linnell Dowling takes readers on his life journey with this cautionary coming of age story. Filled with honesty and brimming with hope, his story is one of redemption, resilience and destiny.
About the Author: He is a husband, father, author, speaker and business consultant. Mr. Dowling is the President and CEO of several businesses. This is his debut work as an author. In his spare time, Mr. Dowling enjoys reading, writing, working out, and following the Baltimore Ravens/Orioles and Maryland University sports.
As a young man surrounded by drugs and violence, Linnell fell victim to the traps that capture many young people growing up in the inner city. Mistake after mistake put him on a path of destruction with the prospect of an early death chasing him for years.
This revealing collection of experiences details the life lessons and inspirational moments of a young man brought back from the brink of losing it all. A will of determination, the prayers of a forgiving and supportive family, and a strong belief in God are the ingredients to living a successful life.
"Living At Home" is the perfect book for today's young adolescent and adults. Each chapter in "Living At Home" focuses on the many aspects of Mr. Dowling's life. Each scene takes you to a different location: Andrews, South Carolina, Baltimore, MD, Colorado Springs, CO, Georgetown, SC, Richmond, Virginia, and the likes of your own hometown. It's a fascinating story with a twist filled with unexpected consequences.
"Living At Home- a memoir" - ISBN 978-0-615-33733-3, Paperback, 194 pages; 5 ½ x 8 ½, $19.95 is available at
www.unipublishingco.com
, and coming soon to Amazon and Barnes & Noble.com. Complementary review copies are available to the media upon request. For more information, contact P.S. Communications or email Linnell at linnellshawn@linnellsdowling.com.
Media Contact: P.S. Communications
Pam Sherbia, Principal
P.O. Box 2244
Waldorf, MD 20604
1-800-351-9084 (direct)
1-888-649-2685 (fax)
###
Contact
U N I Publishing Co.
Pam Sherbia
1-800-351-9084
http://www.unipublishingco.com
Fax: 1-888-649-2685

Contact