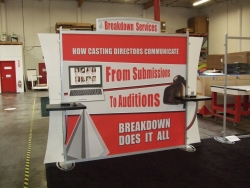 Chicago, IL, June 02, 2010 --(
PR.com
)-- The "Sacagawea" trade show booth functions beautifully as an in-line display. Each 10×10 display coverts to a 10×20 display.
See Sacagawea display with full detail descriptions, set up movies, pricing and much more here.
Sacagawea displays have found it's niche with exhibitors, and is marketed to close the gap between the saturated and non-functional portable pop up booths, and traditional higher priced custom hybrid displays. These displays bring a much needed higher value back drop to the exhibitor looking for a portable hybrid trade show display.
Be very impressed with not only the clean lines of this exhibit, but with the tool-less set up allowing exhibitors to get in, and get out quickly. The Sacagawea's latest upgrade are thumb knobs instead of traditional set screws which makes assembly possible within 45 minutes for a 10×10 booth, including un-packing.
The Sacagawea is made from durable materials such as aluminum tubing, base plates and (1) Roto-molded flat case making up portable display. Graphics are are made from tension fabrics which are vibriant, light-weight and cost effective. The accessories for the display include integrated workstations, accent wings, literature holders, flat screen holders and overhead fabric canopies for a dynamic looking trade show exhibits.
Evo Exhibits is a full-service trade show exhibit company. Evo Exhibits product line-up includes pop-up exhibits, inline exhibits, island exhibits, custom exhibits, table top exhibits, banner stands and more. Evo is pleased to offer a complete line of green exhibits that are made from eco-friendly materials without compromising design, functionality and durability. Evo's rental exhibit offering is one of the most comprehensive in the industry today. Additionally, they provide trade show services including exhibit design, exhibit installation and dismantle, trade show logistics, exhibit storage, exhibit management and trade show marketing services.
###