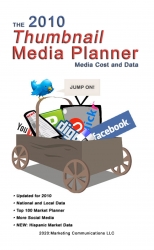 Rochester, MI, June 03, 2010 --(
PR.com
)-- The cost of advertising media will likely increase beginning in fall 2010, according to Ron Geskey, publisher of the Thumbnail Media Planner. Geskey says that the congressional races plus some increased ad budgets will significantly reduce the supply of time and space. He continues, "Advertisers should capitalize on the current buyer's market while they can."
Also, according to Geskey, many large advertisers and large media buyers are expecting increased demand and price 8%+ price increases for the 2010-2011 upfront television season-- following price reductions in 2009 and 2010.
What should advertisers expect to pay? The Thumbnail Media Planner has been published annually by 2020:Marketing Communications LLC since 2003 synthesizes important advertising and media research data, including audience trends, important media research alerts, and 2020's exclusive media cost forecasts for all major media. Media covered include national and local market television and radio as well as magazines, newspapers, the internet, social media, out of home, and non traditional media.
One of the Planner's popular features is its Top 100 Market Planner which includes demographics and media costs for each market (Designated Market Area).
Asked about future trends, Geskey, offered the opinion that against a backdrop of tough economic conditions, there will be no place to hide from the growth of digital media. Geskey says, "We do not believe that the death of traditional media is imminent, but as economic pressures increase, so will the pace of change including the challenge lies of how to take advantage of the digital reality."
For more information about the Thumbnail Media Planner, visit the website, www.thumbnailmediaplanner.com
###