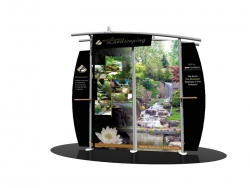 West Chicago, IL, June 05, 2010 --(
PR.com
)-- As more exhibiting companies adopt sustainable practices, the importance of showcasing their environmental commitments to clients and prospective clients is ever growing.
To see the green movement first hand, take a look at the Greenbuild Expo. Greenbuild is the largest national show in the United States where all exhibitors products and services are everything green. This year's 2010 Greenbuild at Chicago's McCormick Place is set for a record amount of exhibitors and attendance.
New for 2010, Greenbuild has mandated guidelines for exhibitors to exhibit with sustainable booth materials from graphics, lighting, display hardware, shipping cases and flooring. Mandatory guidelines also aim at reducing handouts and giveaways.
The trade show industry as a whole has a history of being extremely wasteful (ever see a trade show floor at dismantle on what's left behind to be thrown out?…you'd be surprised how many railroad cars leave a convention center with trash). Exhibit manufactures, service providers, show venues and exhibitors have increased their sustainable practices with some being pioneers, and others being forced to commit to sustainable practices. Adapting the Reduce, Reuse and Recycle model is starting to have a noticeable and positive effect on the show floor.
If your company is looking for a new trade show exhibit, or renting a trade show display, consider looking for a green exhibit. More and more exhibit houses are offering sustainable green exhibits, and some offer green trade show rentals for those that exhibit only 1-3 times per year, or would like to "test drive" the booth prior to purchasing.
Choosing the right green exhibit will pay dividends for years to come as show standards and mandatory guidelines will become increasingly strict moving forward. Look for overall value with durable components, flexibility with graphics and accessories, scalability with different sizes, and unique cutting edge clean designs to make your company stand out on the show floor.
See examples of green trade show displays here.
Evo Exhibits is a full-service trade show exhibit company. Evo Exhibits product line-up includes pop-up exhibits, inline exhibits, island exhibits, custom exhibits, table top exhibits, banner stands and more.
Evo Exhibits is pleased to offer a complete line of green exhibits that are made from eco-friendly materials without compromising design, functionality and durability.
###