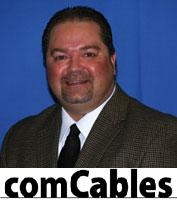 Denver, CO, June 05, 2010 --(
PR.com
)-- Buchanan comes to comCables from a Denver-based telephony integrator where he served as the Director of Sales. He served various roles prior to moving into his management position during his nearly eleven years at this integrator.
Buchanan has over a decade of telecommunications experience. He specializes in telephony and IP-converged low voltage systems. Buchanan is regarded as a respected leader in his field. He recently attended the SMG Summit in Orlando, FL, where he discussed the advantages of using structured cabling for IP security and telephony systems to nearly 100 business owners.
"David's sales and management experience, and his energy for helping integrators grow their businesses, will truly complement our team at comCables," said Greg Greenwood, President & CEO at comCables.
Buchanan will serve as a Senior Account Manager, with the responsibility of managing a national account and Colorado-based low voltage integrators. He is tasked with introducing new integrators to the comCables Structured Cabling Solution, while continuing to grow and manage a national account.
He'll be based at the company headquarters in Denver, CO. David can be reached via email: david@comCables.com or via LinkedIn: http://tinyurl.com/3x9bwej.
Information about comCables is available from Brian Zabroski at brian@comCables.com or (303) 952-1735. The company's website is www.comCables.com.
Founded in 1999, comCables is headquartered in Denver, CO, and is a manufacturer of structured cabling solutions. In 2009, comCables was named the 21st Fastest Growing Inner City Company in the United States. The company operates four (4) facilities within Colorado, an eastern shipping facility in Arkansas, as well as a location in Cabo San Lucas, Mexico.
Contact: Brian Zabroski
Phone: 303.952.1735
Email: brian@comCables.com
###