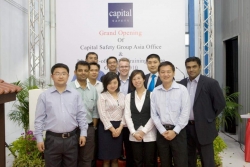 Singapore, Singapore, June 10, 2010 --(
PR.com
)-- Guest of Honor Wong Weng Sun, Chairman of Singapore's Work at Height Safety Taskforce, was the featured speaker as Southeast Asia's new state-of the-art height safety, rescue and confined space training centre officially opened on May 6th. More than 150 guests and dignitaries from Singapore's Ministry of Manpower, Workplace Safety & Health Council, and Work at Height Task Force celebrated the inauguration of Capital Safety Group's (CGS) new 7,000 square foot indoor height safety training facility – an industry milestone—located in Singapore's West district.
The modern, fully equipped centre, easily accessible to all of CSG's Asian clientele, is designed to educate the workforce and provide hands-on training for working safely at heights. Guests at the festive grand opening ceremony enjoyed a performance by the Lion Dance Group, a Kabuki drop opening with confetti, and special training demonstrations along with a tour of the centre.
"We are gratified to see how much excitement our new centre has generated among Singapore's government officials, our local distributors, and the safety industry in general throughout Southeast Asia," said CSG Asia's Managing Director, Brad Gates. "The centre not only helps CSG clients to comply with Singapore's Code of Practice (COP) for Working Safely at Heights, it is also an important resource for all of our Asian clients who would like to learn how to improve their safety at height site plans."
Capital Safety, the world's leading designer and manufacturer of height safety and fall protection equipment with 13 operating sites worldwide, is home of the DBI-SALA and PROTECTA brands. All of Capital Safety's fall protection and rescue systems are backed by the best training, technical assistance, and customer service in the industry.
For more information, contact Capital Safety at +65 6558-7758 or visit them on the web at www.capitalsafety.com.
###