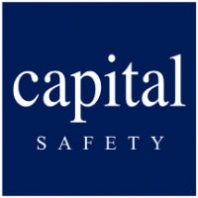 Capital Safety (CS) is the world leader in fall protection products and industrial rescue systems, sold under the famous brand names – DBI-SALA® and PROTECTA®.
INTERNATIONAL PRESENCE - Headquartered in the USA, we have local operations in over 12 countries including manufacturing plants and maintenance centres in USA, Canada, Australia and France. CS's well-trained distributors are spread out in 70 countries, numbering over 10,000. We will be starting our manufacturing operations in China, dedicated to manufacturing Protecta and Protecta First products.
PRODUCTS AND SERVICES - All CS products are engineered to meet worldwide standards, including OSHA, ANSI and CE. The manufacturing operations are tested in accordance with ISO 9001 certification standards to ensure unsurpassed quality.
Fall protection products include full body harnesses, shock-absorbing lanyards, self-retracting lifelines, permanent and temporary horizontal and vertical lifelines, and restraint belts for personal use. We provide a full range of rescue and confined space equipment including tripods, winches and work positioning devices. We also design and install custom-engineered permanent safety systems.
With 70 years in the Fall Protection Business, Capital Safety's world-class support helps customers in receiving the best training, technical assistance, and customer service in the industry. All CS products are backed with comprehensive, globally endorsed, liability coverage.
INDUSTRIES SERVED – CS's wide range of products have well defined applications in various industries including Oil and Gas, Construction, Telecommunications, Power & Utilities, Transportation, Wind Energy, Aircraft, as well as for Fire and Rescue operations. Our global customers include Fortune 500 companies.
CS ASIA – CS's Singapore location is home of Asia's unique, state-of-the-art indoor height safety training centre. CS has been recognized by Singapore's Ministry of Manpower (MOM) and Workplace Safety and Health Council (WSHC) for the support it offers local industries in complying with Singapore's Code of Practice (CP) for Working Safely at Height. Among the many accolades bestowed on CSG in Asia are: Accredited Training Provider status (ATP) for Working Safely at Height; membership in the Work at Height Task Force; and bizSAFE designation.
CSS - Capital Safety Solutions is a premium consultancy that offers Training, Customized Solutions and Consultancy Services for all industries on the full spectrum of WSH programs. These include government-endorsed programs as well as propriety solutions. The Division is headquartered in Singapore with a regional reach through its established offices and branches throughout Asia.
For more information on establishing your Fall Protection Partnership with CS, please contact Capital Safety Group Asia at +65-6558-7758 or visit us on our web at www.capitalsafety.com or email to inquiry@capitalsafety.com
~~ GLOBLE LEADER IN FALL PROTECTON ~~
CAPITAL SAFETY GROUP ASIA
Serving the Unique Needs of Local Industry
2010 – A Year of Landmark Accomplishments
CS Opens State-of-the-Art Height Safety Training Centre
Singapore's East district is the home of CS's 7,000 square foot indoor height safety, rescue and confined space training centre. Fully air-conditioned, the facility was officially opened in May 2014. It is unique in Asia and features a faculty of experts, comprehensive courses, and a hands-on training environment with authentic workplace scenarios.
Singapore MOM Awards Capital Safety ATP Status
In 2010 the Singapore Ministry of Manpower (MOM) conferred upon CS its prestigious Accredited Training Provider (ATP) status, officially recognizing CS's fall protection training courses as meeting all the requirements to comply with Singapore's Code of Practice (CP) for Working Safely at Height.
CS is a Member of Singapore's National Work at Height (WAH) Safety Taskforce
As a member of the WAH Safety Taskforce, CS provides industry leadership and works to make recommendations pertaining to the development and implementation of measures under the Code of Practice to reduce work at height fatality and injury rates.
CS Fall Protection Partnership Offers 24-Hour Service, 7 Days a Week
CS's expert staff provides a wide range of services to industry leaders, such as consulting services, solution training, and advice on fall protection plans and height safety legislation through its Fall Protection Partnership program. These services are available to Partners, free of charge, year-round, 24 hours a day.
CS Products Insured
All CS products are backed with comprehensive, globally endorsed, liability insurance coverage.
Please kindly contact Capital Safety Group Asia at +65-6558-7758 or visit us on our web at www.capitalsafety.com or email to inquiry@capitalsafety.com
~~ GLOBLE LEADER IN FALL PROTECTON ~~