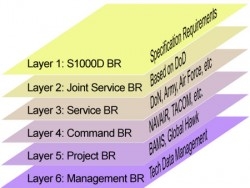 Toronto, Canada, June 09, 2010 --(
PR.com
)-- SiberLogic, a worldwide leader in XML content management technologies, today announced the availability of automatic business rule validation functionality in SiberSafe S1000D CSDB. The move gives the company's S1000D customers an automated way to ensure data modules are conformant to intended business rules.
S1000D business rules are decisions that are made by a project or an organization on how to implement the specification. S1000D recognizes that a number of decisions related to its implementation are made not only on a project level but often also on an organizational level. The structure and content of business rules between projects and various organizations can differ considerably. In an S1000D project, the BREX data module contains the business rules applicable to a project.
Up until now, there has been no automated way to be sure every data module complies to the business rules, requiring manual effort.
The new functionality in SiberSafe S1000D CSDB validates S1000D data modules against rules defined in the BREX data module. For many S1000D users, there is a need to automatically check validity of data modules with respect to BREX. This SiberSafe functionality provides a BREX validation report.
The SiberSafe BREX Validation Report:
- Shows any discrepancies/disagreement with the rules by data module
- Identifies and presents guidance on the authoring of the specific elements, and attributes
This functionality also allows organizations to produce a BREX validation report for all data modules in a publication module.
Pricing and Availability
SiberSafe S1000D CSDB is available today with competitive pricing. Interested parties can contact their local resellers or contact Alex Povsner of SiberLogic.
For more information on SiberLogic, please visit http://www. SiberLogic.com/.
###