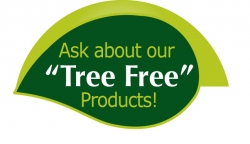 Syosset, NY, June 11, 2010 --(
PR.com
)-- Paradigm Group today announced the introduction of their newest "Tree Free" tissue products. Paradigm Group will introduce their 100% "Tree Free" bath tissue in August 2010 for the retail and industrial channels.
Mr. Ralph Bianculli, CEO of Paradigm Group states: "Following our roll out and record breaking success of the 75% "Tree Free" facial tissue, bath tissue and dinner napkin, introduced by the Duane Reade drug chain during earth week 2010, we accelerated our production plans towards 100% "Tree Free.""
Mr. Bianculli continues: "I am extremely proud of our production and marketing team, who worked relentlessly in developing the final product. Their due diligence was clearly confirmed by huge success we are having both in the retail and industrial sectors."
Lenny Blumenthal VP of Production adds "Bamboo is a grass, not a tree, Cotton Textile Waste is a reclaimed product that would otherwise be used in landfills and is considered a waste product. By combining these ingredients we are able to produce an Eco-Friendly product that is both strong and soft."
"We are excited to add new lines to this fascinating and game changing product material, which can measurably change mankind impact on our fragile eco landscape," Mr. Bianculli concludes.
Emerald Brand 100% "Tree Free" products are made with Bamboo and Cotton Textile Waste and are 100% Biodegradable.
Emerald Brand 70% "Tree Free" products are made from readily renewable Sugar Cane Fiber (70% Bagasse) and Eucalyptus, which is also a readily renewable resource.
By using Emerald™ Brand "Tree Free" Products you'll be environmentally responsible without compromising quality.
To learn more about Emerald Brand and "Tree Free" products please contact us at (516) 496-0000 or email us at info@paradigm-grp.com.
About Paradigm Group
Paradigm Group is a full service facilities products manufacturer and distributor of facility related products. Additional services include brand development, product Sourcing, Market Research in addition to sales and facility Consultant programs. Product specializations include Environmentally Responsible disposables and cleaning supplies, Warehouse and Mail Room packaging, Break Room disposables, and Washroom products for the workplace. For more information visit www.paradigm-grp.com or call 516-496-0000.
###