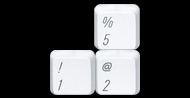 Palo Alto, CA, June 12, 2010 --(
PR.com
)-- Keystroke Interference a
Anti keylogger
program will keep the user's keystrokes safe even if the virus protection software installed on the user's computer fails to do so. In recent publications researchers from Matousec.com, a project of Different Internet Experience, found a way to circumvent some of the most popular security software for Windows desktops, including products from Symantec, McAfee, Sophos and others. The Matouse researchers were able to breach some of the world's most respected security systems and gain access to people's private information.
Hackers exploit this kind of vulnerability to download keylogger software onto a user's computer. These malicious programs will capture all keystrokes the user types, including websites, user names, passwords, and private emails. The latest threat report from Symantec shows that key logging is responsible for more than 80% of online data theft and most victims do not find out they have been targeted and their information breached until it's too late. Check out Visa's latest release http://usa.visa.com/download/merchants/key-logger-key-stroke-and-screen-capture.pdf about keyloggers that they protect with Keystroke Interference.
If you want a free anti keylogger go to http://1.networkintercept.com/keystrokeinterferencefree.exe and download this program for your free version which only works on IE.
###