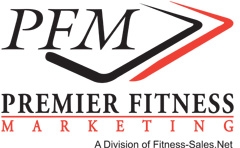 Ocala, FL, June 14, 2010 --(
PR.com
)-- Gym, fitness center and health club owners have a new marketing resource available to them with the launch of www.fitnesssales.net, the redesigned website for Premier Fitness Marketing.
Premier Fitness Marketing is a full service health club marketing, fitness center promotion and gym advertising company. The company has nearly two decades of experience in marketing to the unique demographics of health clubs and gyms across the U.S.
The website, which is designed and hosted by Ocala-based NetSource Technologies, features handy tools and health club marketing information that can immediately benefit gym owners in their efforts to increase monthly paid membership. An online projections calculator allows owner to see a customized estimate of the bottom-line value for a typical fitness center marketing campaign.
The website's blog (www.fitnesssales.net/fitness-marketing-blog) and other resources share some of the easy-to-implement best practices developed by Premier Fitness Marketing over more than 17 years of health club marketing. These tips and ideas can instantly boost a fitness center's bottom line -- even before the effects of a promotional campaign kick in.
"Premier Fitness can help gym owners add 200-400 new monthly paying members without any cost or risk to the club," says the company's Matt York. "And all these memberships are from people who normally never think about setting foot in a health club."
In addition, the website details Premier Fitness Marketing's approach to generating additional health club revenue. The company believes that discounted membership selling is the wrong approach to take. They specialize in selling EFT-based memberships that provide health clubs with the stability necessary to succeed in the long term.
Premier Fitness Marketing also understands that in fitness center marketing, competition is a fact of life. They have developed health club marketing campaigns designed to help fitness centers counter their competition's pre-sales and retain paying members. The company has had particular success in developing campaigns for fitness centers and gyms in Alabama, Mississippi, Arkansas, Tennessee and Georgia.
"Professional Marketing with Integrity" is the company's mantra. All of their work is commission-only. If the gym promotion does not make money, they don't make money. Premier Fitness Marketing completely fronts the resources required to conduct their promotions, leaving health club owners with no out-of-pocket expenses.
Premier Fitness Marketing's redesigned website can be found at www.fitnesssales.net. Fitness center owners can contact a health club marketing specialist by filling out the club profile at: www.fitnesssales.net/free-marketing-report.
NetSource Technologies is an award-winning web design, hosting, e-commerce and consulting company that has been serving clients nationwide since 1995. Visit their web site at www.netsourceinc.com for more information on their services.
###