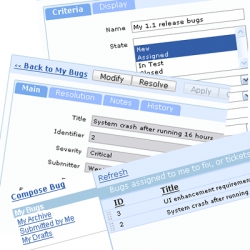 Petaluma, CA, June 16, 2010 --(
PR.com
)-- Wukong Design today announced that it has added TheBugTrack app to the Google Apps Marketplace™, Google's online storefront for Google Apps™ products and services. TheBugTrack is a feature-rich web application that enables Google Apps users to record and track issues or bugs from anywhere in the world using only a browser and Internet connection. With TheBugTrack app, project teams can smoothly track and manage bugs, benefiting from native integration with their Google Apps user accounts. Say goodbye to the tedious and costly setup and maintenance required for an in-house bug tracking system.
"Wukong Design is committed to leveraging the power of cloud computing so that project teams can manage bugs effectively and without any setup, so integrating with Google Apps was the logical choice," says Vincent Zhou, CEO, Wukong Design. "By adding TheBugTrack app to Google Apps Marketplace, we've provided Google Apps customers with a powerful issue tracking application that works seamlessly with their existing messaging and collaboration platform."
TheBugTrack eliminates the IT support associated with the setup and maintenance of traditional bug tracking systems. Directly installed into Google Apps by domain administrators, users can access TheBugTrack from the Google universal navigation and take advantage of single sign-on. TheBugTrack enables an easy work flow for managing bugs and recording the full details and state transfer history of each issue. With TheBugTrack you can auto-fill bug fixers and testers from a list of Google Apps domain users, generate customized bug queries and reports, implement customized fields, and turn on email notification using simple rules. Simplicity and usability are at the core of TheBugTrack service.
"We are very happy to have TheBugTrack in the Google Apps Marketplace," adds Scott McMullan, Google Apps Partner Lead for Google Enterprise. "Through the Google Apps Marketplace, software vendors like Wukong Design are helping us build a rich ecosystem of integrated apps that work seamlessly with Google Apps, allowing IT administrators to leverage the benefits of cloud computing and extend Google Apps to meet more of their business needs. We are excited to make bug tracking easier for the millions of Google Apps users who have embraced the cloud."
Google Apps brings simple, powerful communication and collaboration tools to organizations. With Google Apps, users can use applications such as Gmail™ webmail service, Google Talk™ instant messaging service, Google Calendar™ calendaring service, Google Docs™ program, Google Sites™ web application, and Google Video™ for business on their own domain to work together more effectively. Best of all, it's all hosted by Google, so there's no hardware or software to download, install or maintain.
Google, Google Apps Marketplace, Google Apps, Gmail, Google Talk, Google Calendar, Google Docs, Google Sites and Google Video are trademarks of Google Inc.
###