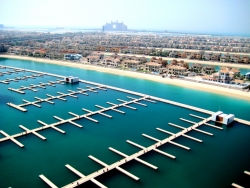 Belize CIty, Belize, June 23, 2010 --(
PR.com
)-- "Every cloud has a silver lining," the saying goes because hardship brings with it opportunities that otherwise would not exist. 
Borne of the current financial crisis and its seeming everlasting effects, people and companies are turning to creative and inventive new ways to get things done. This company represents one of those great ideas.
www.deluxelotto.net
Quaevs is revolutionizing the way property changes hands all across the world. They have the smart concept that adds value to all – they're offering a win-win solution.
This is a raffle to win a beautiful apartment on the world-famous Palm Jumeirah and by entering for a comparatively small fee, the contestant stands to win something that would otherwise take years, if not a lifetime, to achieve. Seems a rather novel and exciting way to handle the economic downturn.
The Palm Jumeirah, Dubai, requires little introduction. For many reasons it has become a world-renowned landmark; a name synonymous with luxury, ambition, splendour and style. Tiara Residence is perfectly positioned on the trunk of the Palm island and is, according to many, the most stylish way to enjoy living on The Palm.
Conceptualised and developed by one of Dubai's most esteemed property developers, Zabeel Investments, Tiara is luxury at its best. Boasting panoramic sea and coastline views, apartments are beautifully fitted and finished to the highest standard. Amenities such as the highly-equipped gymnasium, private beach and massive infinity swimming pool offer residents an exclusive and enjoyable living environment. http://www.deluxelotto.net/?option=static&task=pictures
The apartment featured in this raffle enjoys views of the Palm Marina, the sea and the iconic Atlantis hotel on the horizon. It is fully furnished and decorated beautifully with -bespoke designed furniture of unparalleled elegance to a fully-equipped kitchen and dining room, the lucky new owner need not lift a finger. http://www.deluxelotto.net/?option=static&task=desc
Tickets are selling at Euro 99 and a limited amount of 14,999 are up for grabs. That's a 1 in 14,999 chance to win this apartment, the winner's very own statement of style. Whether entrants live in Dubai and dream of living in such luxury or live elsewhere and would love a holiday home to use at their leisure, here's the chance. And if the winner would rather cash in, that's his/her's choice too as there is also the option to sell the apartment or earn a rental income from it.
An additional bonus is that with every entry on http://www.deluxelotto.net/?changeLan=en there is a free ticket to a second raffle. The second raffle is for a luxury vacation at the V&A Waterfront in Cape Town, South Africa. All the details can be found on
http://www.getawaylotto.net
. This prize includes 7 days accommodation and flights for two. When an entrant registers for the Win an Apartment Raffle the getaway raffle ticket will be automatically allocated as well.
###