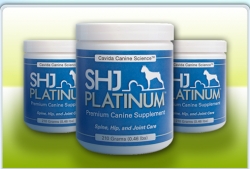 Cincinnati, OH, June 28, 2010 --(
PR.com
)-- Approximately 1 in 5 dogs currently suffer from dog arthritis(1). When you add to that an increase in obesity trends and longer life spans for dogs, best estimates indicate that a whopping 7 out of 10 dogs will suffer from arthritis in their lifetime(2). These statistics are alarming because once a dog has been diagnosed with arthritis, there is no cure.
That is why Cavida Canine Science, a company specializing in spine, hip, and joint health for dogs, has introduced their newest dog joint supplement – SHJ Platinum™ Powder Supplements.
"We wanted our product to approach joint care in a type of "triple play" approach: 1) Reduce inflammation for immediate pain relief; 2) Protect the bones, joints, and cartilage to prevent further degeneration; 3) Rejuvenate the cells to aid in long term healing naturally," says Dawn Dukes, Director of Public Relations for Cavida Canine Science.
Cavida Canine Science developed its proprietary formula to include 12 active ingredients that work synergistically to help alleviate joint pain and help activate the body's own healing process.
In addition to the typical glucosamine and chondroitin doses that most joint supplements contain to help with joint degeneration, SHJ Platinum utilizes ingredients like hylaronic acid, boswellin, msm, and green-lipped mussel to help with rebuilding synovial fluid and healthy cartilage. Other ingredients like yucca bromelain, manganese, vitamin C, and omegas 3, 6, & 9 are also utilized to help with inflammation, pain relief, and joint health.
"We have seen tremendous results from our customers. While we obviously cannot promise a cure for arthritis, the testimonials we receive almost daily show that our consumers are seeing significantly positive results," says Dukes.
All indications show that their bet on the formulation seems to be working. The company reports that product sales have seen a 400% increase just in the past month, with much of it coming from consumer referrals.
Cavida Canine Science is putting its money where its mouth is. They offer a free 30-day trial bottle with sign up for their monthly home delivery program. And, if the product does not meet a customer's expectation, they offer a 90 day unconditional money back guarantee.
The ongoing cost of SHJ Platinum™ is $29.99 per bottle + $7.95 S&H. To order a free bottle or get more information, go to www.shjplatinum.com
(1) Pfizer Animal Health Study
(2) http://www.dogarthritistreatmentguide.com/
###