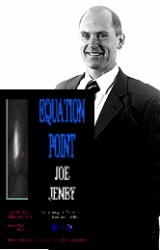 Los Angeles, CA, December 13, 2006 --(
PR.com
)-- Just when we thought it was safe to read again…there arrives more Code Controversy.
Or should that be 'God' Controversy!
As soon as the Da Vinci Code finished telling us that Jesus was a man, Equation Point tells us that man is God – well, man will be God in a future too far ahead for any of us to think about in terms of years, or millennia for that matter. But that moment will arrive, and sooner for some than others.
Michael Heart, one of the characters from Joe Jeney's brand new futuristic Sci-fi thriller, Equation Point, claims, 'Humanity will become God in the infinite, infinite future. If we traveled so far ahead…literally anything would be possible.'
Everything is possible when man is God!
So if that's the case, and we can travel so far ahead, let's hurry up and get there and do all the things we ever wanted to do, and now.
Ironically, Joe Jeney explains it isn't that easy. First, you have to be willing to sacrifice everything, because there ain't no coming back once you leave. Then of course you have to find the 'equation point' and park yourself outside of time for a while and wait for the eons to pass you by.
May as well take something good to read.
The Print-On-Demand (POD) publisher Lulu.com published the U.S. print version of Joe's Sci-fi novel while Mainstreet Publishing published the Ebook version.
Joe likens online and POD publishing phenomena to the first printing press, apparently a good thing, where mass dissemination of ideas changed the world forever – and for the better.
Mainstreet Publishing is also bringing out a paperback version shortly.
If you want to see what all the fuss is about, and read about future gods, dark matter and galactic love while you're patiently waiting for all time to pass you by, look at Joe's online home at www.joejeney.com or visit Lulu.com, Mobipocket, Amazon.com or Barnes & Noble Online or any one of the many other online retailers selling his new work, Equation Point.
Looks like the controversy isn't over yet – we have to wait a few more years, a lot more years!
Media Contact: email the Media Officer at mainstreet@internode.on.net
###